Summer roundup of West Michigan CD releases, Part II: Vertical Bridge, Potato Moon, Delilah DeWylde, Detour, Dave Hardin, Suitcase
Just like today's rain, the deluge of new regional music continues.
The second installation of my Local Spins Summer Roundup of West Michigan album releases focuses on a few bands who'll be performing at this weekend's Cowpie Music Festival, as well as a hard-rocking outfit that hosts a CD-release concert tonight in Greenville.
And then there's a couple of ultra-talented veteran bands — Potato Moon and Detour — which keep adding to their catalog of recorded music.
In case you missed it, check out the first batch of summer Local Spins albums (including the REVUE sampler, The Outer Vibe, Lucas Wilson and much more) here, and look for Take 3 next week.
Suitcase (Frank Salamone and Jim Steigmeyer, aka Jimmie Stagger)
Live in '76 at Battle Ground: 4th Annual Indiana Fiddlers' Gathering
Back in the day, Grand Rapids fingerstyle acoustic blues guitarist Frank Salamone had no equal. He influenced a generation of West Michigan musicians, and for a time, paired up with Jimmie Stagger (Steigmeyer at the time) as Suitcase to create some truly special moments in performing classic acoustic blues tunes as well as Salamone originals. Salamone recently passed away after a long battle with MS (read more about him here), but just before his death, his friends managed to get this amazing recording from a 1976 performance released on CD. It's a tremendous tribute to a tremendous artist, and for those who never heard Salamone in his prime, a wonderful opportunity to embrace his music.
Stagger opens this weekend's Cowpie Music Festival at 5 p.m. today (Friday) on the Cowpie Stage.
Website: http://www.franksalamone.com/
Delilah DeWylde & the Lost Boys
Win My Love
The recording studio doesn't always do justice to the bass-spinning, honky-tonking, country-billying approach taken by Delilah DeWylde & the Lost Boys in their visually appealing, live stage sets. But DeWylde has never sounded better than on this 11-track album recorded at Grand Rapids' Mackinaw Harvest Music, with producer Michael Crittenden also pitching in on organ and, yes, toy piano. From the lively opening strains of "You Ain't the Only Game in Town" to the edgy rockabilly closer "Burn It Up," it's clear that DeWylde & the Lost Boys mean business.
The band plays the Cowpie Music Festival's Cowpie Stage at 6 p.m. Saturday. They also play the Tuesday Evening Music Club series at Frederik Meijer Gardens & Sculpture Park at 7 p.m. Tuesday.
Website: http://www.delilahdewylde.com/
Dave Hardin
Miles of Nowhere
Fine. I've actually reviewed this album before, as an independent release in 2011. But now that the CD has been released nationally by Nashville's Ride Records after Dave Hardin signed a contract with the label, it's worth repeating: With an approach that's part Steve Earle and part James McMurtry, Hardin's poignant, earthy songs resonate with penetrating Americana and alt-country charm. The Kentucky native has found a home in West Michigan's music scene after moving here a few years ago to record this album at Grand Rapids' Chauncey Studios.
The Dave Hardin Band plays Cowpie Music Festival's Founders Stage at 6:30 p.m. Saturday.
Website: http://www.davehardinmusic.com/
Vertical Bridge
Never Too Late
If the members of Vertical Bridge had honed their hard-rocking skills in Australia instead of Greenville and Rockford, they'd probably be known as AC/DC Jr. Busting out of the gates on their latest studio CD with a full-throttle roar, Jim Douglas, Brad Thomas and Jamie Sorsen deliver catchy doses of metal-tinged rock with a message, getting a big boost from Megadeth bassist Dave Ellefson and producer Billy Smiley, formerly of Christian rock's White Heart.
In addition to nine original tracks, the album, recorded in Nashville (with Ellefson supplying bass parts from Arizona), also features a couple of surprisingly fresh covers of Collective Soul's "Shine" and The Black Crowes' "She Talks to Angels." And the cover artwork is a gem.
The band celebrates its CD-release with a concert at Greenville Community at 7:30 tonight (Friday) and plays Rock on the Roof at Frontline Community Church on Plainfield Avenue NE on Aug. 25.
Website: http://www.verticalbridgeband.com/
Potato Moon
The Ghost Sessions: June 2010-March 2012
Long familiar to West Michigan audiences, Potato Moon's family-band milieu has always been distinguished by striking sibling harmonies, a dusky, throwback sound that straddles folk, swing, rock, pop and Americana, and perhaps, unpredictability (changing names at one point to The Lonely Jones and releasing a full-fledged rock album).
Many tracks on "The Ghost Sessions," recorded partly at a family cabin in Grayling, have a darker, laid-back, Cowboy Junkies-hued quality due to Ben Stancil's songwriting, the scary-beautiful vocals of Jane and Laura "Lulu" Stancil, and the eerie-cool guitar work of Phil Stancil Jr. and Michael Sullivan. (Bassist Phil Sr. and drummers Jimmy Schultz and Bradford Dawson round out the lineup.) It's a haunting affair, particularly on "Desire," which meshes a Dire Straits' vibe with Potato Moon's distinctively dreamy singing.
Website: http://potatomoonband.com/fr_home.cfm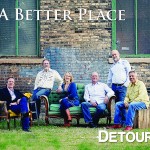 Detour
A Better Place
Straddling the fence between traditional and original contemporary bluegrass, this northern lower Michigan band uncorks deftly arranged songs that sound fresh but clearly lean heavily on the veteran musicianship of its talented members.
With Missy Armstrong's crisp and inviting vocals leading the way, fiddler Peter Knupfer, mandolinist (and chief songwriter) Jeff Rose, guitarist Scott Zylstra, bassist Jack Grant and banjo player Kevin Gaugier share the spotlight at various times in impressive fashion on this album recorded at Frontier Recording Studios in Copemish, from rousing originals like "Quarterline Road" to a furiously delightful bluegrass take on The Box Tops' "The Letter."
Website: http://www.detourbluegrass.com/
Email: jsinkevics@gmail.com