Grand Rapids' concert lineup runs the gamut from Motion City Soundtrack and Anberlin to a Founders anniversary bash and a video game cover band. Really. Check out this week's Big List. (Videos)
Bob Dylan and His Band, Mark Knopfler
7:30 p.m. Monday
$47.50, $62.50, $87.50
Van Andel Arena, Grand Rapids
This week's Big List kicks off with, well, a really Big Star. But there are plenty of other stars, big and small, to consider as we plow into mid-November. Oops. Did I just use the p-word?
Bob Dylan's eccentricities in concert are somewhat legendary and, frankly, expected. He doesn't do interviews (his touring mate Mark Knopfler also declined an interview during this tour), he doesn't allow photographers into shows, and he always keeps fans guessing as to what songs he might play and how he might play them.
At 71, the iconic singer-songwriter can do pretty much whatever he wants. Sometimes that leaves fans shaking their heads and grousing, often unable to deduce – or come to grips with – his renditions of familiar songs. (Here's another head scratcher: Dylan plays the 12,000-seat Van Andel Arena in Grand Rapids, followed on Tuesday by the 5,000-seat Fox Theatre in Detroit.)
But every Dylan show I've ever seen has been memorable because of that unpredictable nature (with help from his talented bandmates), and one of the absolute best of those occurred several years ago right here in Grand Rapids at Van Andel Arena when Dylan appeared with yet another highly touted guitarist/artist: Brian Setzer.
So, I'm expecting the Dylan/Knopfler matchup to be a mostly worthwhile affair, based on recent tour reviews and because Knopfler joins Dylan on stage for several songs. Interestingly, while Dylan has trotted out a song or two from his recent album, "Tempest," he's skipped those tunes as of late and concentrated on classics. His Friday show at Chicago's United Center kicked off with the instrumental, "Watching the River Flow," followed by four songs with Knopfler – "To Ramona," "Things Have Changed," "Tangled Up in Blue," "Blind Willie McTell." The rest of the list: "Make You Feel My Love," "The Levee's Gonna Break," "Desolation Row," "Highway 61 Revisited," "Forgetful Heart," "Thunder on the Mountain," "Ballad of a Thin Man," "Like a Rolling Stone" and "All Along the Watchtower," with an encore of "Blowin' in the Wind."
Knopfler, not surprisingly, has impressed reviewers, too. Check out my review of his most recent double album, "Privateering," posted at Spins on Music's Classic Rock Corner. And not surprisingly, tickets are still available for the Grand Rapids show. Details here.
FUN., Miniature Tigers
8 p.m. Wednesday
The concert is sold out.
Van Noord Arena, Calvin College
Like the Lindsey Buckingham concert (below), this sellout was to be expected.
On the strength of the trio's most recent album, "Some Nights," and the smash single, "We Are Young," the New York-based FUN. has become a phenom of sorts among college-age fans. Not only that, but there's a strong Michigan connection: Andrew Dost was once in the central Michigan band Anathallo. Anyway, this show will likely be, well, fun … for those who have tickets.
Tierney Sutton Band
St. Cecilia Music Center Jazz Series
7:30 p.m. Thursday
$30-$35 ($10 students)
St. Cecilia Music Center, Grand Rapids
Back by popular demand, jazz singer Tierney Sutton and her band officially kick off the St. Cecilia Music Center's jazz series.
The Grammy-nominated, Los Angeles-based singer has earned widespread kudos from critics, music publications and jazz audiences. The Midwest native continues to tour behind her latest album, 2011's "American Road" – a recording that AllAboutJazz.com describes "as enticing as it is pleasurable" delivered by one of the scene's "most versatile and accomplished jazz singers."
Get tickets and more information at the St. Cecilia Music Center site. And check out a video of Sutton below.
Carrie Underwood, Hunter Hayes
7:30 p.m. Thursday
$43.50, $53.50, $63.50
Van Andel Arena, Grand Rapids
Kinda strange coincidence how country singer Carrie Underwood's tour is called "Blown Away" and $1 from every ticket sold goes to support American Red Cross relief efforts … especially because the tour started long before Superstorm Sandy ravaged the East Coast.
Regardless, her album of the same name has blown up the country charts and you can expect her to fare pretty well at Sunday's American Music Awards.
Up-and-coming country heartthrob Hunter Hayes opens the show. Get ticket details here.
Lindsey Buckingham
8 p.m. Friday
The concert is sold out
Saugatuck Center for the Arts, Saugatuck
No surprise that this concert by Fleetwood Mac guitarist and renowned solo artist Lindsey Buckingham sold out almost immediately at this intimate Saugatuck venue. Buckingham, who's been in the news as word of an upcoming Fleetwood Mac tour continues to spread, has released several solo albums over the years, including 2011's "Seeds We Sow."
Although Buckingham declined an interview, in a prepared statement he described his solo tour as part of a desire "to express more with less … the embodiment of that philosophy is what will be largely represented in the new show. I've been thinking of doing this kind of tour for a while, and am quite excited to be doing something new, something outside my comfort zone."
And in honor of having both Carrie Underwood and Lindsey Buckingham in West Michigan the same week, check out the rare video below of the pair performing "Go Your Own Way."
Dave McGraw & Mandy Fer
8 p.m. Saturday
$18 advance, $22 day of show (table, sofa seating also available)
Seven Steps Up, Spring Lake
Talk about high praise: The folks at Seven Steps Up insist that Dave McGraw and Mandy Fer's first Pin Drop Concert at the Spring Lake listening room was "hands down one of the most amazing concerts ever performed" as part of the series.
The singer-songwriter duo from western Washington is touring behind their most recent folk- and Americana-infused album, "Seed of a Pine."
Get more information about the show and tickets here. Check out a video of the duo below.
The FBC All-Stars
Founders 15th Anniversary Party
Free
7:30 p.m. Saturday (doors open at 11 a.m.)
Founders Brewing Co., Grand Rapids
This is an all-day, 21-and-older party celebrating the 15th anniversary of Founders Brewing Co. It features the draft release of "bolt cutter," a special 15th anniversary ale, along with evening performances by the "star-studded" band of Founders employees (aka, FBC All-Stars) playing its first show outside of the summertime Founders Fest. Folks at Founders also promise "a ton of surprises." The band plays its first set at 7:30 p.m. Learn more here.
(Oh and Minnesota's Roster McCabe brings its electro-rock to Founders at 9:30 p.m. Thursday for a free show that also feature North Carolina's ultra-talented, multi-tasking Stereofidelics.)
Motion City Soundtrack, Jukebox the Ghost, Now Now
6:30 p.m. Saturday
$18 advance, $20 day of show
The Intersection, Grand Rapids
The Minneapolis-bred Motion City Soundtrack has a real affection for (and a connection to) Grand Rapids, so you can expect that the emo-flavored alt-rock outfit will deliver an action-packed show at The Intersection this weekend. The band released its fifth studio album, "Go," in June, spearheaded by the single, "True Romance." Get ticket information here.
Not necessarily or exactly in the same vein, but certainly with some crossover appeal, alt-rock's Anberlin headlines a show at 7 p.m. Thursday at The Intersection, with Morning Parade and IAMWE also on the bill ($17/$20). And at 6 p.m. Sunday, some folks will be back for the Fall 2012 AP Tour with Miss May I, The Ghost Inside, Like Moths to Flame and more ($17/$20). Details at The Intersection website.
The Crane Wives
9:30 p.m. Saturday
$7
Billy's Lounge, Grand Rapids
To see the fast-rising Crane Wives play their energetic folk-rock in the cozy confines of Billy's Lounge in Eastown could make this quite the special show for the Grand Rapids band reveling in the glow of its sophomore album, "The Fool in Her Wedding Gown." (Maybe that's why it's a $7 cover instead of the usual $5.) Stay tuned for details about another amazing show at a stunning West Michigan venue by this band and some others come 2013. (The band also plays the Lakeshore Tavern in Muskegon on Friday night.)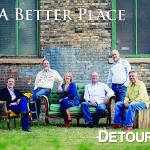 Detour
7 p.m. Sunday
$15
Salt of the Earth, Fennville
When I reviewed this northern lower Michigan bluegrass band's "A Better Place" album earlier this year, I described it as "straddling the fence between traditional and original contemporary bluegrass" strains in impressive fashion. The six-piece Detour will certainly light up the intimate Salt of the Earth with its lively music on Sunday night. Get more information about the show at the Salt of the Earth website and check out that album review (along with other local band spotlights) here.
UNDER-THE-RADAR PICKS
Playing With Power at 7 p.m. Friday at Schuler Books & Music on 28th Street SE – As odd as this may sound, Grand Rapids' Playing With Power is a "video game cover band." Yes, that's what I said. The band "covers songs from the 8-bit Nintendo and 16-bit Super Nintendo video games." On Friday, it will share the stage with the Detroit-based Super Guitar Bros. As Mario might say, "Mamma mia!"
Nobody's Darlin' at 7 p.m. Saturday at Zellie's Opry House in Howard City — I can think of no better place to revel in an all-female string band than the homey Zellie's. If you never been there, it's long past time for you to check it out when Grand Rapids' Nobody's Darlin' performs. Doors open at 6 p.m., with a 6:10 p.m. "pre-show." Tickets are $8. Get directions and the rest of the lowdown on this hoedown at Zellie's website.
Collie Buddz, New Kingston, Los Rakas at 9 p.m. Saturday at The Pyramid Scheme – Bermuda reggae artist Collie Buddz made a splash with his 2006 hit, "Come Around," and has since continued to build his audience and generated more buzz about his approach. Get tickets and more information about getting a free music download when you make that purchase here.
Derek James Hollis Benefit at 8 p.m. Saturday at the Tip Top Deluxe Bar & Grill – The Martyrs will be playing at this benefit in memory of Derek James Hollis who died in October after being involved in a motorcycle accident. The $5 donation/cover will go to "Darian's trust fund." More details at the Facebook event page. By the way, Grand Rapids' inventive rock band Invisible Mansion headlines an 8 p.m. Friday show at the Tip Top (along with sets by New York's pow wow! and Quiet Loudly, and Grand Rapids' Wicker Basket, $5).
Organissimo playing Randissimo's Sunday Jazz at 7 p.m. Sunday at the SpeakEZ Lounge — Not sure anything else needs to be said: a free show starring this phenomenal organ-based trio in a sweet downtown venue.
Email: jsinkevics@gmail.com