Hailing from Kalamazoo, the nationally renowned Greensky Bluegrass has helped alter the face of the genre. Today, mandolinist Paul Hoffman divulges the three albums that have altered and shaped his career.
EDITOR'S NOTE: All musicians can trace their inspiration to a few key recordings that captivated them and influenced their own music. Today, Local Spins writer Ross Boissoneau spotlights Greensky Bluegrass manadolinist Paul Hoffman's "Top 3 Albums" along with his current favorite.
Support our coverage of
West Michigan's music scene
Mandolinist and vocalist Paul Hoffman is one of the co-founders of the Kalamazoo-bred, not-quite-bluegrass band Greensky Bluegrass. Coming together originally out of an open mic night, the band has since ascended into headliner status nationally. The band's imaginative take on the style, incorporating jamming and indie-rock, has endeared it to audiences worldwide, playing iconic venues such as the Beacon and Red Rocks and touring across the country and internationally. The core of the band hails from West Michigan, with the band initially playing gigs at Bell's Brewery.
---
Joshua Davis, "Fool Rooster"
– When this record came out (in 2005), it really moved me. Still does. I listen frequently. Josh's songwriting was already heavily influencing me and this record was a rock and roll/country application of his craft that really hit me. There's palpable energy in the recording too.
Listen:
"Crowing at the Moon"
---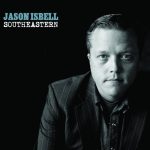 Jason Isbell, "Southeastern"
– This record in particular from Isbell really demonstrates the art of "Giving it to you hard and straight." Most of these songs are just heart-wrenching. Pure sadness. That's the way i want to write. Find something difficult to say and then commit to singing it true. Listen to "Elephant" for example. Like, how do you even tackle writing this?
Listen:
"Elephant"
---
Pink Floyd, "Dark Side Of The Moon"
– I figure I ought to pick something from my formative years. As mentioned above, I love sadness confronted with music. I often suspect I learned this appreciation from Pink Floyd. I've listened to a LOT of it. Still, it's so psychedelic that it creates an environment for exploring the emotional content. Those soaring David Gilmour riffs are just divine, laced with some depressing lyrical realism.
Listen:
"Time"
---
Currently Loving: Bahamas, "Earthtones"
– I can't rave about this record enough. It was released three years ago and I've listened to it weekly since. Seriously. I love his clairvoyant lyrical touch and the arrangements are the best. Really. The best. As much I just enjoy this record for any occasion, I've really been studying the way he puts a song together and applying it to my craft. Thanks, Afie Jurvanen.'
Listen:
"Way With Words"
Copyright 2021, Spins on Music LLC
---