He's been the go-to guy on keyboards for Joshua Davis, Larry McCray, May Erlewine and many others for years. Today, Michigan's Mike Lynch reveals the three albums that influenced and inspired him most.
EDITOR'S NOTE: All musicians can trace their inspiration to key recordings that captivated them and influenced their own music. Today, Local Spins writer Ross Boissoneau showcases the albums that changed the world for Michigan keyboardist and sideman Mike Lynch. Scroll down for a Spotify playlist, including a swing jazz classic he's been listening to as of late.
Keyboardist extraordinaire Mike Lynch has played with an exhaustive list of Michigan musicians: Joshua Davis, May Erlewine, Jack White, Larry McCray, Steppin' In It, The Lash and more. "The Reverend," as Davis affectionately dubbed him, has also recorded with the likes of Willie Nelson, Sheryl Crow and Neil Young and opened on arena tours for Bob Seger and Kid Rock.
Support our coverage of
West Michigan's music scene
His first musical love was accordion, and he still considers the accordion to be his main instrument. It was at his first big concert – Bob Seger in 1978 – that he fell for his second love. "I saw that (Hammond) B3 and that Leslie amp and that piano and that was a huge influence on me," he told Local Spins in a profile from 2018. He joined Local Spins writer Ross Boissoneau to talk about the recordings that inspired him and continue to do so to this day.
---

1. Herb Alpert and the Tijuana Brass, "Whipped Cream and Other Delights" (1965) – That really influenced me. A year later I realized there was a record inside, Lynch says with a laugh. The snappy horns, the arrangements – it was very tightly arranged. That was on fire. I wore it out. That was the first one.
Listen: "A Taste of Honey"
---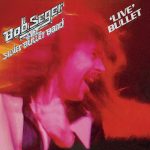 2. Bob Seger and the Silver Bullet Band, "Live Bullet" (1976) – It had all the instruments I play – B3, Rhodes, Wurlitzer, clavinet. The energy of the performance, the power of all the people in the arena who made it too. A smaller scale was when Josh (Joshua Davis) made it on "The Voice." To feel what that energy was like and the sounds. When I opened with Whitey Morgan (for Seger), it was everything I ended up loving.
Listen: "Katmandu"
---

3. The Pogues, "If I Should Fall From Grace With God" (1988) – I'd been playing accordion for quite a while. Here it was, a folk instrument, with a punk rock rhythm section. "The Lash" (the band's previous recording, "Rum, Sodomy & The Lash") was going toward folk with rock and roll attitude. I think the crowds were so excited they didn't know what to do. I think that's how mosh pits started. They were doing mosh pits at Small Planet (a small restaurant in East Lansing). I think the Pogues showed me a different way (of playing accordion). My dad watched Lawrence Welk and I grew up near Frankfort, so I heard a lot of polkas.
Listen: "If I Should Fall From Grace With God"
---

Currently Loving: Glenn Miller, "Moonlight Serenade" – I spend most of my time listening to what I'm working on. Lately I've been on a big band kick, listening to the likes of "Moonlight Serenade," Glenn Miller (recorded in 1939).
Listen: "Moonlight Serenade"
---
MUSIC THAT CHANGED THE WORLD: Mike Lynch's Playlist on Spotify

Copyright 2021, Spins on Music LLC