As a West Michigan music scene mainstay, Bimini Brother and solo artist Dennie Middleton gets around. Today, he reveals the albums that influenced his career the most, along with a current favorite.
EDITOR'S NOTE: All musicians trace their inspiration to key recordings that captivated them and influenced their own music. Today, writer Ross Boissoneau showcases the albums that changed the world for West Michigan musician Dennie Middleton, along with a recording at the top of his current playlist. Among other upcoming gigs, Middleton plays a Yellow Brick Road Dueling Pianos show with Kevin Viilo as part of a Berlin Raceway post-race show on Saturday (April 17), an Eastern Avenue Hall benefit April 30 and Sparta's Concerts in the Park as a "Nick and Dennie" show June 30. Scroll down for a Spotify playlist of his favorite albums, including an original track by Middleton.
Support our coverage of
West Michigan's music scene
Sparta native Dennie Middleton is well-known to West Michigan music fans for the comic relief he's provided as one half of the long-running, irreverent musical comedy team the Bimini Brothers. The keyboard player and guitarist has played with a number of bands, including his classic rock outfit The Hype, as well as shows in Hollywood, and has done background acting for NBC and ABC. Dennie was the entertainment director at The BOB in Grand Rapids for two years, and has also written and recorded his own original music. "Music was always around the house," he said, ranging from country to Top 40 to rock 'n' roll. "My brother with everything from ZZ Top to the Guess Who. My parents were always singing and harmonizing."
---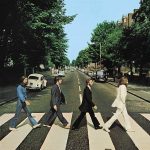 The Beatles, "Abbey Road" (1969) – It's always the Beatles. My son's name is McCartney Clare (for Paul McCartney and Middleton's dad Clare). "I'll Follow the Sun" always triggers me. The Ed Sullivan Show, the Beatles cartoon, it took off from there. I loved "Deface the Music" (a Beatles pastiche by Todd Rundgren and Utopia).
Listen: "Come Together"
---
Styx, "Crystal Ball" (1976)
–
Crystal Ball was always a special one for me. It's when Tommy Shaw joined the band. Tommy Shaw was a huge influence on my writing. He's truly the (reason) I taught myself guitar, like the descending C chord pattern of "Come Sail Away" (from the band's subsequent album, "The Grand Illusion"). And the synth sounds, with Dennis DeYoung. I can't believe Styx and REO Speedwagon aren't in the Rock and Roll Hall of Fame.
Listen:
"Crystal Ball"
---
The Outfield, "Extra Innings" (1999)
– Driving home from Florida recently, I was playing that. I've always been a big Outfield fan. That (kind of music) is what (Middleton's) The Hype did, that classic rock. The Outfield was my favorite. They were a super influence, poppy but serious.
Listen:
"Heaven's Little Angel"
---
Currently Loving: Huey Lewis and the News, "Weather" (2020)
– Those seven songs always keep those Huey Lewis harmonies, and I'm a harmony freak, (as on) "While We're Young." It's a catchy, dancey 1984-type of album.
Listen:
"While We're Young"
---
MUSIC THAT CHANGED HIS WORLD: The Dennie Middleton Playlist on Spotify
Copyright 2021, Spins on Music LLC