A half-dozen new releases by Michigan artists — from Detroit's The Messenger Birds to the U.P.'s John Davey — are showcased via reviews, audio samples and more at Local Spins.
Local Spins closes out September with a round-up of new releases that spans the state of Michigan (not to mention heading to Nashville for the Albion-bred War and Treaty's latest, impressive new album).
Support our coverage of
West Michigan's music scene
The latest batch also spans a bevy of genres: vintage country, pop, Americana, jazz, rock and some stuff that's just too difficult to pigeonhole.
Check out the reviews and listen to tracks from each of the featured artists. See previous reviews of albums by Michigan artists here.
---
The War and Treaty
"Hearts Town"
What Stands Out: The third album from the fast-rising duo hailing from Albion marks a genre departure, extrapolating the restraints of folk and Americana to reveal a soulful disposition. "Yearning" opens with a massive build-up of horns, drums, bass and organ. The verses groove effortlessly with a pulsing rhythm section and a lyrical melody that drips off the tongue. The chorus soars into the clouds with an explosion of harmonies. "Beautiful" features none other than Jason Isbell, who lends his voice and guitar chops to the mix in a soulful fashion. The song dances with pianos, synths and guitars while Michael and Tanya Trotter display their high-flying vocal range. Midway through the album, "Hey Pretty Moon," (which made its performance debut during a Local Spins Live at River City Studio session in 2018) opens with layered strings that subside at the ring of an electric piano. A slow-dance worthy ballad ensues, with both Trotters trading tender lines. The track is a time portal to another era. It resembles similarities to Ray Charles' "Georgia" but with a flourishing crescendo that shoots off like fireworks near the end. Other highlights include "Jealousy," which flirts with disco with its driving beat and string-drenched layers, as well as "Hustlin'," a nod to the duo's Americana roots, with one of the sweetest-sounding choruses on the album. "Take Me In" closes out the record with a hymn-like meditation driven by piano and sparse guitar, propelled by the duo's powerhouse voices, locked into never-ending harmony.
Digging Deeper: The War & Treaty have experienced such a meteoric rise in the industry, it left little room to truly excavate their own signature sound. Although previous records were full of energy, they still felt raw and unpolished. "Hearts Town" is a sonic arrival of sorts, further representing what this duo is capable of. It's an uplifting experience.
Perfect For: Slow-dancing on the rooftop under a full moon; non-slow dancing in the living room at midnight; traveling back in time with your headphones on
Website: https://www.thewarandtreaty.com/
Listen: "Hey Pretty Moon"

---

Blushing Monk
"Serendipity"
What Stands Out: The slow fade-in on the opening track, "Urban Rush," belies the powerful instrumental performances simmering just below the surface on "Serendipity." But it doesn't take long for the magic of this prodigious bunch of West Michigan modern and progressive jazz musicians to settle over listeners, from that mystical, dreamy opener to the rhythmically tricky and tantalizing "Blushing Monk" that follows. Mind-warping keyboardist and band frontman Dutcher Snedeker (Earth Radio) presides over what he terms "a myriad of unexpected moments" and electrifying jazz sonatas starring guitarist Olin Clark, trumpeter Brad Fritcher, saxophonist Caleb Elzinga, bassists Joe Vasquez and Stanley Ruvinov and drummers Jordan Otto and Madison George. Of course, Snedeker himself is at the top of his game; his solo on "Working Title" alone is worth the price of admission. All of "Serendipity" unfolds as contemporary, cutting-edge jazz with plenty of nods to the genre's forefathers.
Digging Deeper: What "Serendipity" really captures is a slice of wondrous time showcasing Blushing Monk at its creative peak, tracked by Barrett Eminhizer at Western Sound Studios and Ian Gorman at La Luna Recording & Sound in Kalamazoo. There are times when this album gets playful ("Frankenstein") and downright groovy ("Vodou") and chaotic ("Rumble"), and it all feels just the way boundary-pushing jazz should.
Perfect For: A late-night, moon-splashed rendezvous with old friends. – John Sinkevics
Website: https://www.dutchersnedeker.com/blushing-monk
Listen: "Serendipity"

---

Rachel Brooke
"The Loneliness in Me"
What Stands Out: Rachel Brooke lovingly refers to it as "Michigan twang," but really, this northern Michigan country singer's music is rooted in the vintage strains of Johnny Cash, Loretta Lynn, Roger Miller and Patsy Cline. On "The Loneliness in Me" — officially being released on Oct. 23 — it's hard not to feel like you've tuned into a late-night radio station while traversing the back roads of Tennessee in the 1950s. That's especially obvious on "Ghost of You" and "Picture on the Wall," accented by the pedal steel guitar wizardry of Dave Feeny and honky-tonk piano strains of Jarrod Champion. Recorded by Andy Van Guilder at Traverse City's 231 Studios and mastered by Third Man Mastering's Bill Skibbe in Detroit, the album's 12 tracks ooze retro authenticity from every pore of Brooke's being.
Digging Deeper: Brooke's upbringing in the Michigan bluegrass scene (performing with her father, Barry Van Guilder) rears its head during instrumental passages at various points in this album, in particular on the title track. And her co-writes with husband, Brooks Robbins, prove that this is a collaboration worth savoring and repeating.
Perfect For: Fans of tears-in-your beer lyrics with a twist and throwback country charm (Hank Williams, Tammy Wynette, Patsy Cline) who ache to slow-dance on a hardwood, honky-tonk floor. – John Sinkevics
Website: https://www.rachelbrookemusic.com/
Listen/Watch: "The Loneliness in Me"

---

Jake Allen
"Affirmation Day"
What Stands Out: It's truly unfortunate that the COVID-19 pandemic has hamstrung artists promoting release of new music in 2020. Because as one of Michigan's most underrated musicians, songwriters and music creators, Jake Allen certainly deserves the brighter spotlight that "Affirmation Day" demands. The Grayling singer and fingerstyle guitarist has tasted international acclaim – touring the United States with The Accidentals and performing solo in Europe – but the 12 tracks on his latest project further move his music and his stature forward with percussive guitar work, haunting melodies and an atmospheric and lush pop sensibility. Allen views the collection as exploring "what may lie behind the veil of life, feelings of isolation … and the desire to develop compassion amongst these conditions." Listeners may view it more simply as a gorgeous marriage of progressive rock, pop and captivating other-worldliness.
Digging Deeper: Recorded at his own Infinite Balance studio, Allen's fourth full-length studio album — being released in October — tackles everything from love ("More Than Meets the Eye") to death ("Clear") to those "bulldozing their way to success without thinking about who and what they're hurting" on the way ("Rising Tide"). The project also features the tasteful string work of Memphis violinist Basil Alter.
Perfect For: Imagining all the possibilities that life offers, especially for fans of vintage prog-pop. – John Sinkevics
Website: https://www.jakeallenmusic.com/
Listen/Watch: "Rising Tide"

---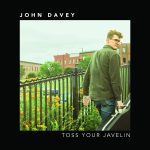 John Davey
"Toss Your Javelin"
What Stands Out: For a reference point, listeners might dig back into the past and check out Michael Penn's 1989 album, "March" (featuring "No Myth"), because Upper Peninsula singer-songwriter John Davey reflects some of that same enticing vibe vocally and instrumentally on "Toss Your Javelin," his latest studio album. Calling on the help of Shane Leonard, Jeremy Boettcher and Josh Gallagher on the album recorded at Leonard's house, the Marquette-based Davey unfurls brilliantly crafted lyrics throughout, like these from "Lower Tiers": I watched my heroes fall/I saw them crumble one and all/And a chorus of 'no's' from a gallery of those/Who will never see so straight or stand so tall.
Digging Deeper: Fetching harmonies, inventive arrangements and clever instrumentation ("Sugarmask," "Hard Times, Strong Men") turn what could have been a typical singer-songwriter affair into a pop-hued, indie-rock/folk gem.
Perfect For: Fans of The Decemberists, Crowded House and smart songwriting. – John Sinkevics
Website: http://johndaveysings.com/
Listen: "Kings, Gods, Fools"

---

The Messenger Birds
"Everything has to Fall Apart"
What Stands Out: Detroit's The Messenger Birds is a grumbling rock duo with a knack for creating a massive wall of sound. The album opens with "Play Dead (Just for Tonight)," a track that could be a fitting soundtrack for the apocalypse (let's hope not). The song burns into a blaze of guitars, drums and other less-identified, extra-terrestrial sounds. On "What You Want to Hear," a blend of Nirvana and The Black Keys is at the forefront of the track's sound. The guitars are thick, the drums booming, and the chorus is anthemic. Other highlights include the title track: a fuzzy, somber experience. Its instrumentals are a vast ocean of textures, leaving behind a trail of lyrics to explore the edges of the band's sonic palette. On "When You've Had Enough," a simple acoustic guitar progression is employed as the backdrop for a heart-wrenching tale, soaked in ambient "ooohhs" and gentle keys. Album closer, "Start Again," offers a muscular presence and is certainly the heaviest track. It opens with little more than guitar strums, but suddenly drops into a storm of thunderous reverberations.
Digging Deeper: The Messenger Birds — Parker Bengry and Chris Williams — create a display of controlled chaos with their most recent record. The energy is infectious and the songs are buzzing with creative layers. The LP officially drops on Oct. 7.
Perfect For: A demolition derby; wielding a flamethrower; weathering a brooding existential crisis – Ricky Olmos
Website: https://themessengerbirds.com/
Listen: "Everything Has to Fall Apart Eventually"

Copyright 2020, Spins on Music LLC