It's another impressive batch of Michigan releases that pumps up this roundup of Local Spins reviews, with sample tracks from all of the albums.
We've pointed it out before, but it bears repeating: Michigan artists have been busy during the pandemic releasing new material.
Support our coverage of
West Michigan's music scene
This week's slate of album reviews crisscrosses different parts of the Great Lakes State, including the latest from some Grand Rapids favorites, the second album from a Lansing singer-songwriter and the first in a trio of albums by a Kalamazoo-based singer and guitarist.
Take a gander at these fresh recordings, then return to Local Spins next week for another roundup of local and regional releases.
---

August
"Chaos & Comfort"
What Stands Out: Embodying its namesake, the most recent album from August teeters between the firm plateaus of comfort and the precarious (yet thrilling) edge of chaos. There's a thread of tension pulled from the record's opening lines to its closing measures, which range from ominous rock 'n' roll to gospel-prone funk. Opening the record, "Pretend" roars with distorted electric guitars and a smoldering presence. The Grand Rapids band is at its heaviest right out of the starting gate, pulling its musical punches from the top and rendering its listener susceptible to the rest of the album's soulful charm. The heat doesn't let up with track two, "None the Wiser." Frontwoman Olivia Vargas brings a bit of lyrical heat, channeling all of her intensity into the song's angstsy lines. Midway through, a musical breakdown blossoms into a chorus with perfectly panned electric guitar and a crescendo of emotion. The breakdown strips back layers before building again into a glorious culmination of the track's earlier motifs. Without letting up, the third track, "Put Down Your Gun," buzzes with energy. Vargas' voice is honey. She delivers the record's most soulful and passionate performance while making it sound effortless. A colorful instrumental breakdown wields the head-spinning guitar wizardry of Michael Pierce while William Wright's bass lines are a groovy anchor. Marissa Peak's backing vocals also shine on the second half of this track like a distant and dreamy spell. The two final tracks create a fitting come-down for a soaring musical trip. "Bittersweet" is an upbeat funk-rock number with a dash of gospel, while "Never be the Same" is angelic, with a funky ending that includes a few classic Bailey Budnick high-hat stutters on the drums.
Digging Deeper: Vargas and her exceptionally talented cast of musicians do more with a five-song EP than many bands accomplish on multiple records. There's no filler — only raw, carefully constructed songs that bear heart and soul. And not to mention, it's a self-produced endeavor and only the group's second album. So far, August has showcased a confident creative vision and consistent releases that are fresh, intriguing and captivating.
Perfect For: Headphones and a pitch-black room; howling at the full moon from the fire escape; getting your heart shattered into a thousand dagger-sized pieces … then using those shards as throwing-knives against lingering grief and all his friends. – Ricky Olmos
Website: augustthebandmusic.com
Listen: "None the Wiser"

---

Lady Ace Boogie
"That's All for Now"
What Stands Out: One of Grand Rapids' cherished local rappers is hitting pause indefinitely. Lady Ace Boogie's aptly titled "That's All for Now" powerfully draws the curtain on a long-running streak of enigmatic performances, winning fans and releasing three records while stretching the local hip-hop scene. "Stand Alone" opens the album with an urgent tone that relays personal struggles that will resonate with many listeners. Padded with a cycle of organ chords in the background, the polished track is buoyant with drum machines and synth blips. Lady Ace Boogie unleashes rapid-fire verses that are as heavy as they are uplifting. Another notable track appears a couple of songs later with "Fight for Your Life." Featuring James Tellis Jr. and boasting one of the smoothest beats of the record, the instrumentals of the song are lush and atmospheric. The chorus unfolds in an expansive way that pulls the listener in. Near the record's conclusion, "Eyes Wide Open" grooves to the tune of tasteful auto-tune and a club-worthy backing track. With guest verses from Callab and E-Will, the song showcases each artist's singular style, giving it an exceptionally collaborative essence.
Digging Deeper: In a genre where production at the local and indie level can suffer, Lady Ace Boogie cuts no corners on these smoothly polished songs. The subject matter is timely, personal and relatable, and the entire album is a cohesive body of work.
Perfect For: Late-night-summer-vibe drives; dance parties at home that the whole neighborhood can hear. – Ricky Olmos
Website: ladyaceboogie.com
Listen: "Fight for Your Life"

---

Monte Pride
"Even in Absence"
What Stands Out: As an emerging name in Michigan's folk and Americana circles, Lansing's Monte Pride has spent the last few years making appearances at well-known festivals and shows around the state, toting his tender and melodic songs. Beginning gently with "If I Had Known," Pride immediately establishes his airy voice that seems to float above the clouds. Even more captivating are the poetic passages that fill the song. Lines like "…we may refrain from staying the same, a change as thankless as falling rain…" have a way of mining the psyche for deeper, introspective listening. "Tired Old River" shines with its swampy tone and foot-tapping pace that feels like lighting a trail of gasoline and watching it smolder into a fiery blaze. With electric guitar, quick-strumming clawhammer banjo and howling fiddle, the pace is incendiary and the tone is dark. Pride also covers a Red Tail Ring song, "Queen of the West, And Other Stories," that fits in with the album's penchant for storytelling and weaving words. Telling the tales of wayward characters who find redemption with the help of little more than an acoustic guitar, the song is a journey in and of itself. Another standout is the twangy, wistful measures of Pride's "Sparrow." The way the guitar's bendy notes almost wobble out of tune provides a captivating tension. The song soars confidently on its acoustic wings.
Digging Deeper: Monte Pride proves himself a deserving torch-bearer of Americana songwriting with this sophomore release. The traditional trappings are just sparse enough that they don't get in the way of the storytelling. Pride is an artist to take note of and will only get better and more refined in his craft over time.
Perfect For: Slow footsteps along a northern wooded trail; whiskey in front of the fireplace in the dead of winter; watching the afternoon clouds roll by. – Ricky Olmos
Website: montepridemusic.com
Listen: "Tired Old River"

---

Brian Lybrandt
"Alive & Suffering"
What Stands Out: Muskegon-based multi-instrumentalist Brian Lybrandt's sophomore album "Alive & Suffering" is honest above all else. Described by Lybrandt as "a sort of catharsis," the album is bluntly personal, and feels like an invitation to meander around a range of his emotions and experiences. With the instrumental depth that the album has, it's astounding to consider Lybrandt handles vocals, guitar, bass, keyboard and drums for a range of tracks — and when he doesn't, the instrumentation comes courtesy of friends. Lybrandt's personality is so entrenched into the music — and specifically the vocal performance — that it only amplifies the messaging in his lyrics on the album being release on Sept. 4.
Digging Deeper: The writing on so many of Lybrandt's tracks reflects the broader themes of duality and dichotomy. In "Alive," he talks about being forced to stare at himself, where he sees his reflection, but it is hollow and empty, and dreadful to see. "Not Well" places observance of pain against a desire for action. Down the track list, there's an obvious mastery of personal, insightful writing, but not to a point where it becomes unrelatable. With so much emphasis on intriguing lyrics and Lybrandt's enticing vocals, the instrumentation only adds more fuel in the tank without weighing tracks down. "Not Well's" echoing choral breakdown paired with crashing cymbals and droning guitar is like falling down a void, which complements Lybrandt's admission of his troubling mental state. "Ghost" brings so much energy for such a heavy song, with rich vocals like red wine, a choral build-up and a production rooted by a somber piano that sounds like it's being played out of the back of an abandoned church. It culminates in an atmosphere that guides listeners around Lybrandt's complex, spiraling headspace.
Perfect For: A bit of rainy day soul-searching, worthy of multiple listen-throughs. – Nick Moran
Website: https://brianlybrandt.bandcamp.com
Listen: "Ghost"

---

Bryan Klinesteker
"Timeline Trilogy Vol. 1"
What Stands Out: "Timeline Trilogy Vol 1" is a groovy, breezy listen that acts as a musical time machine. Starting with "Pretty Darling," the song is flush with bright guitars and galloping drums. "No Doubt About" features a dreamy pedal steel guitar drifting throughout. Kalamazoo singer and guitarist Bryan Klinesteker croons about the subtleties of domesticity between floating instrumentals. Other notable tracks include "Captured by Your Style," which showcases horns and endearing romantic lines, as well as closing track, "Nurture the Earth," a simple, acoustic-driven instrumental song that leaves the listener in a meditative state.
Digging Deeper: Klinesteker provides an enjoyable and easy listen with this collection of songs. The record has a knack for shifting genres and styles ever so naturally and expertly — coming from a musician who played professionally in his 20s and then spent many years as a teacher in Los Angeles working with blind children before returning to his hometown of Kalamazoo. The album, produced by Jeff Moehle and Klinesteker, is the first of three collections of original music he plans to release.
Perfect For: Sunsets and sunrises with coffee or wine (or both); daydreaming out the window; reminiscing wistfully. – Ricky Olmos
Website: bandcamp.com/bryanklinesteker
Listen: "Pretty Darlin'"

---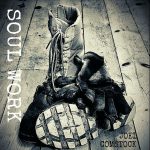 Joel Comstock
"Soul Work"
What Stands Out: Joel Comstock's debut album, "Soul Work," feels like a smattering of influences sewn together to make a musical quilt — perhaps a bit rag-tag at times, but cohesive and symbolic of Comstock's individual experiences and influences. Described as "a musical journey of faith with some rock 'n' roll mixed in," the driving messaging is hard to ignore. It feels like Comstock has invited you to a family meal to talk about his life. In that, the Grant-based artist's vocals match the tone, but feel a bit hindered by the echo and reverb-laden production. Luckily, that doesn't extend to the instrumentation, which bounces between gritty and sultry — and again filled with influences, with sounds like they were inspired by The Guess Who or Kansas among others. It's a wide-ranging blend of sounds and stylings, but Comstock wrangles them in a unique way, especially paired with his relationship with his faith as the subject matter of many of his songs.
Digging Deeper: The opening track, "Let's Begin," is a great example of the personal patchwork styling present around the whole album. The introductory, building church bells feel like they're sampled off of AC/DC's "Hells Bells," while the piano that guides listeners through the song had me thinking of Billy Joel at times, especially as it builds to peak energy. While it feels a bit scattered, there's an underlying cohesion that pushes listeners through the track without it feeling overbearing. "David in Me," is quite the opposite, feeling much more established and focused, driving home Comstock's vocals and inspiring lyricism. The guitar stylings that pop up in flourishes are an absolute joy when paired with punchy drums and supporting organ performances. Comstock absolutely wails on the track, too, and when he lets loose, his prowess really shines, complementing the pensive, but growling and funky writing.
Perfect For: The faithful classic-rock initiates who want to sing shamelessly. – Nick Moran
Website: https://joelcomstock.hearnow.com/
Listen: "David in Me"

Copyright 2020, Spins on Music LLC