No. 7 in our countdown is a combo affair: The much-ballyhooed story of Greensky Bluegrass' debut at Shagbark Farm in July and mandolinist Paul Hoffman's picks for 'Albums that Changed His World.'
EDITOR'S NOTE: It turned out to be a much-anticipated celebration that reunited Greensky Bluegrass fans for the first time in years. So when the beloved, Kalamazoo-bred progressive bluegrass band announced its first-ever July festival at Shagbark Farm near Caledonia, fans and readers were overjoyed. And just prior to that, Local Spins published the most-read edition of its 'Albums that Changed the World' series, with Greensky mandolinist Paul Hoffman revealing his picks for albums that influenced him the most. Revisit both here, along with a photo gallery from the July mini-festival.
Support our coverage of
West Michigan's music scene
The uber-popular Greensky Bluegrass and festival organizers couldn't quite pull off their planned early June Camp Greensky event in northern Michigan due to COVID, but they came up with the next best thing.
Hoxeyville Presents rolled out three straight nights of Greensky Bluegrass performances in mid-July at the Caledonia-area Shagbark Farm that usually hosts the Cowpie Music Festival.
The inaugural camping festival July 16-18 boasted opening sets by Sierra Hull on Friday, Railroad Earth on Saturday and Steppin' In It on Sunday.
The late spring's relaxing of COVID capacity restrictions in Michigan sparked creation of the new event.
"I knew June and a full Camp Greensky was not going to work and had too much risk in it for me," said Jake Robinson of Hoxeyville Presents, which also hosted the Hoxeyville Music Festival Aug. 13-15 in Wellston, Mich.
"We began with the concept of a drive-in (concert) then pods, then finally as things looked to be fully open by then, I did a full redesign to a camping event."
Organizers anticipated and got a turnout of a few thousand people – "similar to past Hoxeyville and Camp Greensky numbers," Robinson said, adding that ticket sales were brisk from the first day. "Consumer confidence is on the uptick as more folks are getting vaccinated and we are all naturally moving back outdoors more in the summer."
Hoxeyville entered into a lease agreement with "Farmer" John Crissman, owner of Shagbark Farm, to stage the new festival on the same site where Cowpie Music Festival traditionally has been held in August. Cowpie was canceled for 2021.
Greensky Bluegrass – a Kalamazoo-bred, progressive bluegrass band that's become a national powerhouse – performed all three nights to ebullient crowds.
Travis Compton, who books Cowpie Music Festival, said Shagbark had tried to land Greensky Bluegrass for a farm performance "for a while now. It just seems to make sense to everyone involved." He added that "the pastoral nature of the grounds at Shagbark accentuate the atmosphere that Greensky already creates as well."
Indeed, Shagbark Farm, at 7525 Alaska Ave. SE, was completely transformed for the July festival, with a huge stage set up in a new location and a triumphant air during Greensky Bluegrass' sets.
In part, it represented a victory over isolation, over separation, over silence and over touring obstacles provoked by an unprecedented pandemic.
Consequently, the throng of festival-starved attendees responded with over-the-top glee, fervor, camaraderie and devotion for "hometown" heroes who've long distinguished themselves as a Herculean live act.
Playing their first Michigan show since 2019 after being forced to cancel the band's June Camp Greensky festival two years in a row, members of GSBG clearly relished this new venue – a super-sized, polished production in a fresh location on the farm that felt like Cowpie on mega-steroids.
Dobro whiz Anders Beck conceded from the stage that the band wasn't sure at first how this alternative to Camp Greensky 2021 might fare.
"Now, it feels like we have a goddamned festival on our hands," he declared to cheers from happy fans. "Does anybody remember festivals?"
They remembered, and they celebrated that return to a festival vibe for three nights, starting on Friday with a dynamic, one-hour opening set from fast-emerging bluegrass star and mandolinist Sierra Hull of Tennessee, who later joined Greensky as a guest during their set.
Before all that excitement was even on the drawing board, Greensky mandolinist Paul Hoffman took part in Local Spins' weekly series: "Three Albums That Changed My World," which asks Michigan-bred musicians about recordings that have most influenced them over the years.
His February picks for albums that shaped him proved to be the most popular, most-read entry in the series thus far. Revisit his Top 3 and a current favorite here:
---

Joshua Davis, "Fool Rooster" – When this record came out (in 2005), it really moved me. Still does. I listen frequently. Josh's songwriting was already heavily influencing me and this record was a rock and roll/country application of his craft that really hit me. There's palpable energy in the recording too.
Listen: "Crowing at the Moon"
---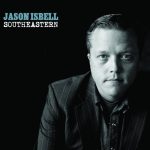 Jason Isbell, "Southeastern" – This record in particular from Isbell really demonstrates the art of "Giving it to you hard and straight." Most of these songs are just heart-wrenching. Pure sadness. That's the way i want to write. Find something difficult to say and then commit to singing it true. Listen to "Elephant" for example. Like, how do you even tackle writing this?
Listen: "Elephant"
---

Pink Floyd, "Dark Side Of The Moon" – I figure I ought to pick something from my formative years. As mentioned above, I love sadness confronted with music. I often suspect I learned this appreciation from Pink Floyd. I've listened to a LOT of it. Still, it's so psychedelic that it creates an environment for exploring the emotional content. Those soaring David Gilmour riffs are just divine, laced with some depressing lyrical realism.
Listen: "Time"
---

Currently Loving: Bahamas, "Earthtones" – I can't rave about this record enough. It was released three years ago and I've listened to it weekly since. Seriously. I love his clairvoyant lyrical touch and the arrangements are the best. Really. The best. As much I just enjoy this record for any occasion, I've really been studying the way he puts a song together and applying it to my craft. Thanks, Afie Jurvanen.'
Listen: "Way With Words"
PHOTO GALLERY: Greensky Bluegrass, Railroad Earth at Shagbark Farm (July)
Photos by Anna Sink

Copyright 2021, Spins on Music LLC