Today, Local Spins continues its series showcasing recordings that most influenced the careers of Michigan musicians. Today, the spotlight falls on David Kirchgessner of Grand Rapids ska band Mustard Plug.
EDITOR'S NOTE: All musicians and songwriters can trace their inspiration to a few key recordings that captivated them and helped shape their musical careers. Today, Local Spins writer Ross Boissoneau interviews Mustard Plug's David Kirchgessner about the "Top 3 Albums" that influenced him the most, along with naming a contemporary artist at the top of his current playlist.
Support our coverage of
West Michigan's music scene
---
In a normal year, David Kirchgessner and Mustard Plug would be preparing this week for their annual, high-energy holiday show at The Intersection in Grand Rapids. Instead, like other bands, they're biding their time until the pandemic wanes. The beloved ska/punk band was formed in 1991 by Kirchgessner and guitarist Colin Clive after they both attended a Special Beat show. The group's first album was released in 1994, and it has since released another seven albums and performed more than 1,500 shows across the globe.
DAVID KIRCHGESSNER: Three albums that changed my world


1. The Specials, "The Specials" – If there was one record that cemented my love of ska, this is it. The Specials came from the working class town of Coventry in the United Kingdom and were one of the very first to combine the original ska of Jamaica with the contemporary sounds of late '70s British punk. Their music was street-level politics and personal and informed by their immediate surroundings. They addressed the rising tide of English racism head on and gave us a snapshot of their lives. The Specials distilled the energy of ska with the immediacy of punk and have influenced every ska band since.
Listen here: "A Message to You Rudy"
---
2. The Laughing Hyenas, "You Can't Pray a Lie"
– I recently watched the documentary "Dope, Hookers and Pavement: The Real and Imagined History of Detroit Hardcore," and as result I have been thinking a lot about that era. The Laughing Hyenas were created by two veterans of the early '80s Detroit hardcore punk scene, John Brannon of Negative Approach and Larissa Strickland of L-Seven. They created a sound that mixed the original sounds of Detroit punk (a la the Stooges) with the blues and became one of the best bands of the grunge era, yet one that few have ever heard of. I was lucky enough to see a bunch of their shows, which were amazing. John is one of my favorite front men of all time. No one can express raw rage and anguish like Mr. Brannon. "You Can't Pray a Lie" is probably their best album. The band members were at the height of their musicianship and it was the last album before they lost their classic rhythm section. Rumor has it Nirvana was so impressed that the band hired the Hyenas' producer, Butch Vig, to record Nevermind.
Listen here:
"Love's My Only Crime"
---
3. Naked Raygun, "Throb Throb"
– "Throb Throb" was the first punk/alternative album I ever bought and I really couldn't have made a better choice. Chicago's Naked Raygun emerged from the Midwest hardcore scene but added more melody and experimentation than many of their contemporaries. Their later albums became a little more straightforward melodic punk, but this, their first full-length, seemed to have a lot more going on and has remained a personal and fan favorite.
Listen here:
"Rat Patrol"
---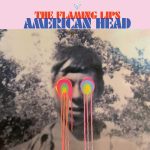 Currently Loving: "American Head" by The Flaming Lips
– The Flaming Lips are the band I've been following for the longest time and they consistently put out great new music. I was lucky enough to catch them on tour back in 1988 and have since seen them at giant outdoor festivals, dive bars, basements and everything in between. They are always amazing. Their live shows are full sensory experiences not to be missed. I'm always a little disappointed when a band just goes on stage, plays its songs and leaves. I have great appreciation for bands that interact and entertain their audience and the Flaming Lips go above and beyond. For their studio projects, they are constantly experimenting and pushing boundaries. Songs in their catalog could be commonly described as pop gems or psychedelic freak-outs. I've only listened to "American Head" a handful of times, but so far it seems like one of their most consistent and focused albums in years. Mellow, melodic and as usual a little bit trippy, it's a great record and a comforting way to while away the pandemic.
Listen here:
"Flowers of Neptune 6"
VIDEO: The Flaming Lips, "Assassins of Youth" (Live)
Copyright 2020, Spins on Music LLC