Local Spins continues its series showcasing recordings that most influenced Michigan musicians. Today, we asked in-demand Rockford musician Paul Keen for his picks of albums that shaped his career.
EDITOR'S NOTE: All musicians and songwriters can trace their inspiration to a few key recordings that captivated them and influenced their musical careers. Today, Local Spins writer Ross Boissoneau gets the lowdown from West Michigan's Paul Keen about the "Top 3 Albums" that influenced him the most, along with naming an artist at the top of his current playlist.
Support our coverage of
West Michigan's music scene
Paul Keen's
music career includes stints on the road with various big bands (Stan Kenton, Buddy Rich, Don Ellis, Louis Bellson) and as music director for Holiday On Ice in the 1970s. He's spent time in the studios in Los Angeles, contributing to motion pictures, animated shows, live television and commercials. No stranger to the classical side, he's performed with the Reno Philharmonic and Fresno Philharmonic orchestras, Burbank and Highland Park Symphonies, and with the Los Angeles Philharmonic Orchestra. Since moving to this area he's worked with numerous bands, including Grand Rapids Jazz Orchestra,
River Rogues Jazz Band
, Antiphon Brass and Flat River Big Band. Keen also has spent considerable time in the pit bands for productions by Grand Rapids Civic Theatre and Circle Theatre and as a member of Hark Up Horns.
---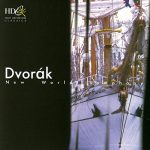 1. Anton Dvorak, "New World Symphony" – I remember vividly the first album I ever bought was Dvorak's "New World Symphony." The flip side was the old "Fourth and Fifth Symphonies." They were pretty brassy. That's where I first heard what trombones, French horns and trumpets could do.
Listen: "New World Symphony"
---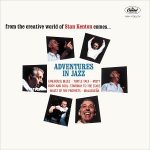 2. Stan Kenton, "Adventures in Jazz" – Our (high school) jazz band played at Lambertville, N.J., as an opener for Kenton. Kenton had one of the loudest bands out there: five trombones, with a second bass trombone/tuba, five trumpets, and mellophones, kind of a forward-facing French horn. It was noisy. The poor saxophones had to scream to be heard over everything. Stan had two drummers, sometimes on two set, but usually one on percussion. "Adventures in Jazz" got me interested in big band jazz.
Listen: "Turtle Talk"
---

3. Dave Brubeck Quartet, "Time Out" – The album that really stands at the top of those that influenced me. I loved big bands, but I thoroughly enjoyed tight small groups/combos. "Take Five" is great, but I really liked "Blue Rondo a la Turk" and "Strange Meadow Lark." I have my Desmond scale (referring to comparing saxophonists to longtime Brubeck alto saxophonist Paul Desmond). His style was so amazing, so smooth, very lyrical.
Listen: "Blue Rondo a la Turk"
---

Currently Loving: Jazz and Musicals – I listen to a lot of jazz. I have the Sirius jazz channel on in both my cars. But I'm listening to more show music. "Les Miserables" – I had to have the soundtrack to the Broadway version. On a trip to New York I saw "Bandstand (a musical about World War II veterans returning home). The World War II veterans returned home to form a band, so the pit band was busy, but the actors on stage had to be outstanding musicians. The musical about airplanes stuck in Newfoundland after 9/11, "Come From Away." I play and enjoy musicals. That's where my attention is.
Listen: "Les Miserables – Overture Work Song"
Copyright 2021, Spins on Music LLC