The latest rock biopic reflects the rise, fall and rise again of Elton John in a different and highly entertaining way. The Local Spins movie review by John Serba.
THE MOVIE: "Rocketman"
LOCAL SPINS SCORE: ★ ★ ★-1/2 (3.5 stars out of 4)
MPAA rating: R for language throughout, some drug use and sexual content
DIRECTOR: Dexter Fletcher
CAST: Taron Egerton, Jamie Bell, Richard Madden, Bryce Dallas Howard
RUN TIME: 121 minutes
SCROLL DOWN FOR TRAILER AND ELTON JOHN/BERNIE TAUPIN VIDEO
Support our coverage of
West Michigan's music scene
Dreams, inspiration, struggle, rise, fall, excess, desperation, restitution: We know the formula of the music biopic.
The genre has become a weary, somnambulant inevitability, regardless of the individuals and their stories, which so often are neutered to fit the template.
"Rocketman" is different, though.
Sure, Elton John's story features dreams, inspiration, struggle, rise, fall, and all that — these are common themes in the lives of artists who experience fame and fortune, and tend to fit the same loose psychological profile. It's the stuff of great human drama, amplified like a guitar riff performed for a stadium crowd.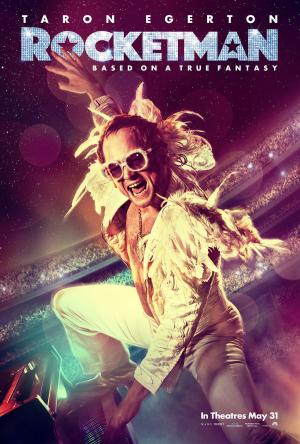 And if any rock star deserves an exaggerated, colorfully entertaining biography, it's Elton John, a truly singular entity whose flamboyance and eccentricity never obscured the poignant appeal of his songs.
The film is staged as a true musical, with complex numbers erupting mid-narrative. In the 1950s, young Elton, then going by his given name, Reginald Dwight, bursts into heavily choreographed song in the suburban London streets of his childhood, and he's quite literally the most colorful person on the screen, as his dancing neighbors are all painted monochrome.
The sequence comes to an abrupt halt as soon as his mother Sheila (Bryce Dallas Howard) calls him home, wet-blanketing his joy — a common thread throughout Elton's life. She was harsh and critical, sometimes supportive, often selfish and bitter. His father, Stanley (Steven Mackintosh), was cold and distant, his cruelty extra painful because he was so pleasant about it. Perhaps that's why Reggie created such a reactionary, rococo Elton persona; perhaps that's why, at the height of his success, he lashed out so astringently at those closest to him, following his parents' example.
It's definitely why Lee Hall's screenplay structures the movie as a series of lengthy flashbacks, recounted by adult Elton (Taron Egerton) during group therapy.
FROM BOLD TO ROYALLY OPULENT WITH A SIZZLING LOVE AFFAIR
Our first glimpse of Elton finds him in full regalia — devil horns, demon wings and a jumpsuit, all sequined of course, walking into his session. He immediately lists his issues: alcoholism, bulimia, a love of weed and pills, even shop-aholism. As the film jumps back and forth through time, he gradually undresses down to a robe. He also wears rose-colored glasses, because he recounts his childhood a little more hygienically than the flashbacks depict.
The bulk of "Rocketman" covers roughly 25 years of Elton's life. It touches on his teen years — notably a pub gig in which the patrons raucously act out "Saturday Night's Alright for Fighting" — before settling in the late 1960s, when he connected with lyricist and lifelong collaborator Bernie Taupin (Jamie Bell).
They began writing songs, first for a publishing firm, then for Elton himself to sing. At this point, you can symbolically track his ascent via his eyeglasses, which initially are merely bold, then become royally opulent, finally evolving to winking clownishness. You also know his clothing, both on and off stage, was coordinated accordingly. It might be too simple to say he hid behind his garish sense of fashion a little, but it might also be a little bit true.
Notably, the film features an early-Elton sequence in which he plays piano in a backing band for touring R&B acts. A Detroit soul man gives him some advice, then plants a kiss on his lips. "Rocketman" addresses Elton's sexuality with a medium hand — its approach isn't exactly bold, more matter-of-fact, emphasizing the singer's sizzling-to-acrimonious love affair with manager John Reid (Richard Madden) whose business partnership would outlast their relationship, because the money was pouring in.
The film is certainly less tentative in this aspect than "Bohemian Rhapsody," which addressed Freddie Mercury's orientation as if it was worried about alienating audiences with too much gayness.
THE QUEEN BIOPIC STUMBLED OVER ITS CORNINESS, 'ROCKETMAN' EMBRACES IT
Shall we compare further?
We don't have much choice. Director Dexter Fletcher essentially helmed both films, taking over for Bryan Singer after he was booted from the "Bohemian" production. (Fletcher was uncredited for his work.)
The artificialities of "Rocketman's" classic-musical style immediately renders it more functional, opening it to heightened drama and narrative shorthand. The Queen film is frustratingly conventional and technically shoddy, but nonetheless collected several Oscar nominations, including a win for its editing — curious, because I wouldn't be surprised to learn that it was hurriedly pieced together with a stapler.
Both seek to celebrate their subjects' music, which is as legitimate a reason to make a film as any. Both also feature colorful leads, British men with, shall we say, immediately identifiable front teeth.
Few will argue against Rami Malek's Oscar win for playing Mercury with great sincerity, and Egerton's depiction of Elton is similarly spirited, albeit more winking. But where "Bohemian Rhapsody" stumbles over its corniness, "Rocketman" wholly embraces it.
As presented, Elton's story is simply more fun and visually dynamic.
Fletcher directs the living hell out of the musical sequences, his camera swooping and tracking through vibrant, cleverly designed set pieces. The film bursts with color and movement — never more so than during its most important moment, when its title is invoked in song.
During a bustling party at his mansion, a depressed Elton washes down a handful of green pills with a swig of liquor, then throws himself into the pool. At the bottom, he finds young Reggie; Fletcher then adroitly transitions to Elton in a spangled baseball uniform on stage at Dodger Stadium, which serves as Cape Canaveral for his literal launch into the stratosphere.
It's a great sequence, as delightful as it is meaningful. If anyone has earned this level of hyperbole, it's Elton John.
VIDEO: "Rocketman" (The Trailer)

VIDEO: Elton John and Bernie Taupin talk "Rocketman"

John Serba is a veteran film and rock critic, formerly of MLive.com and The Grand Rapids Press. Read his current work at johnserbaatlarge.com, and listen to his Bullshit Old Guy Metal podcast here.
Copyright 2019, Spins on Music LLC