This February roundup of releases by Michigan artists also takes a look at new recordings by Andrew Saliba, Kaitlyn Zittel and The Aquaerials. Check out the reviews, listen to tracks from all of the artists.
This February roundup of Local Spins reviews of new albums and EPs by West Michigan artists delves into electronic music, jazz, indie-rock, folk and instrumental projects, several by emerging artists on the scene.
Support our coverage of
West Michigan's music scene
Browse the releases, find out where some of these acts are performing and listen to tracks from all of the featured acts.
---
How To Live Together
"Resister"
Unapologetically electronic, How to Live Together (Jesse Kaczmarczyk and Steffanie Rosalez) immerses listeners in the vast world of strange synthesizers and quirky beats. Over the course of its 13 songs, "How to Live Together" pulses, arpeggiates and morphs musical elements into a sonic tapestry. Standout tracks include "Thin," a melodically and rhythmically pleasing number anchored by a dance beat and gritty bass synth, then countered by gentle vocals and layers of looped melodies. A couple tracks later, "Paths" proves to be another strong cut, with one of the most intriguing drumbeats on the record. Kaczmarczyk and Rosalez share vocals while a haunting synth line looms in the distance. Closing out the album, "Waste" channels a "Stranger Things" vibe with distorted synthesizers that anchor a smoldering foundation for wobbly keys licks and appropriately deadpan vocal delivery. Sometimes dance-worthy, sometimes dizzying, the duo is confident in the ability to create its own world out of sounds and textures. – Ricky Olmos
Website: https://www.facebook.com/pg/howtolivetogether/
Upcoming Show: April 13 at The Snack Shack (house venue) in Grand Rapids with Silent Spirit
Listen: "Paths"

---
Jordan Hamilton
"Forrenland"
It only takes a few seconds of listening to Jordan Hamilton's "Forrenland" to realize it's the work of a true artist, if only a small sample. Affectingly beautiful and devastating, Hamilton is a collage maker – but instead of poring through magazines and carving from glossy pages, he trims, cuts and records an eclectic variety of sounds – sounds that when stitched together achieve a unified emotion. The opening track, "Foreign Land" offers a powerful political statement, countering brash clips of President Trump with interludes of a Spanish monologue and contemplative instrumentals comprised of hip-hop beats and classically leaning melodies on cello. "For You" settles into a steady groove of expansive instrumentals, a longing refrain, and a sprinkling of chirping birds and twinkling piano. Closing out this brief but powerful musical statement, "Ren" plunges fully into the hip-hop sphere with a few seamless bars while still layering on the organic instrumentation, including bongos and dueling tracks of strummed and bowed cello. There's no doubt this is thoughtful, relevant, captivating work. The only thing that could make it better is having more of it. – Ricky Olmos
Website: jordanhamiltonmusic.com
Upcoming Shows: March 23 at Final Gravity Brewing in Kalamazoo (with Georgia Rae); June 14 at Buttermilk Jamboree in Delton (with Seth Bernard)
Listen: "Foreign Land" (featuring Nelly Fuentes-Donnachello)

---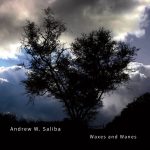 Andrew Saliba
"Waxes and Wanes"
Andrew Saliba has become a jazz fixture in the greater Kalamazoo area. A graduate student at Western Michigan University and a member of the two-time Downbeat awarded jazz/hip hop ensemble Lushh, Saliba is often heard playing with a variety of visiting jazz legends, local artists of all genres, and in creative projects and spaces like Lushh's "Insight, Unsought" large-scale multimedia concert recording at Overneath Creative Collective (a release that got nominated for a WYCE Jammies Award). With 2019 comes the release of a collection of new, original music from Saliba, an album that focuses on his humanity in relation to his art. Saliba describes the Kickstarter-funded, live-concert project as "music that relates to my thoughts, interests, moods and emotions – music that relates to the things I see and hear and experience on a day-to-day basis, music that relates to the art that moves me, music that relates to the people I love and admire, and music that relates to things and events that I might only have encountered once, but which left a lasting impression regardless." With each track on the release, from the intimacy of "Fragile Heart of Clay" to the powerful force behind "Silent Minority," Andrew Saliba offers every listener a way to connect to emotions that make us all human. Whether you are an avid jazz listener or looking to expand your support of West Michigan talent, "Waxes and Wanes" is a creative wellspring of soaring melodies, vibrant harmonies and expert musicianship from start to finish. – Dutcher Snedeker
Website: https://www.facebook.com/pg/AndrewWatsonSaliba/
Upcoming Shows: March 27 with Lushh at Shakespeare's Lower Level in Kalamazoo, May 8 with Lushh at SpeakEZ Lounge in Grand Rapids
Listen: "Silent Minority"

---
Bermudas
"Bloom"
The first full-length album from the Grand Rapids-based trio Bermudas shows the band's determination to stand out as garage-style indie-rockers. The album announces its entrance with the sounds of a rainforest on "Island Third," and introduces listerners to Russ' striking, powerful vocals which are akin to those of rock icon Joan Jett. The band – singer-guitarist Dennielle Russ and bassist Charity Lytle, along with drummer Chris Kleinman, who joined the band in 2015 – isn't afraid to experiment with unusual chord progressions and difficult time signatures as demonstrated on "Naturally." Engineered and mixed by Matt Ten Clay at Amber Lit Audio, "Bloom" is sonically cohesive, expertly divided by three instrumental pieces – "No One," featuring berimbau player Juston Espinoza, the rollicking "November 22" and the outro "Fauxterspace." Other guests include trumpet player Sam Kenny, violist Madeline Smith, guitarist Ten Clay and synthesizer players Kertis Lytle and Ryan K. Wilson. The album's various experiments definitely catch the ear, bringing appreciation for thinking, writing and playing outside the box. – Liv Conaty
Website: https://bermudas.bandcamp.com/
Upcoming Shows: February 15 at Shakespeare's Lower Level in Kalamazoo with Basic Comfort, Hold Person and Mosquito Boy.
Listen: "Naturally" (featuring Sam Kenny)

---
Elroy Meltzer
"Resetting Sun"
The latest from Grand Rapids' Elroy Meltzer represents a slight departure from previous efforts, with new percussionist Haleigh Potter on board. The self-described "satirical indie-folk" band led by Steven Meltzer moves outside the confines of folk and goes full bore into indie-rock on this release, with a few guest musicians in the mix to round out their sound. Clocking in at only 19 minutes, the band makes every second count on its tightest batch of songs to date. Some of the songs flirt with punk rock ("Punk Rock Schoolhigh Us of A" is the most energetic track on the album), while "Freddie Prince Jr.'s False Start" takes a slightly more subdued approach. These tracks also give Potter a chance to show off her more than competent drumming skills, keeping the band together with her tight, intricate grooves. Most of the album is a bit more laid-back. The opening track, "Around the Corner and to the Core," drifts along slowly, offering an atmospheric setting with a country-tinged guitar twang before breaking off into a romping two-step. Meltzer's voice is reminiscent of the subtle raspiness of Langhorne Slim as he pushes into his upper register near the end of the track. "Cracker Barrel Country Star" would sound right at home around a campfire its warm acoustic guitar and cheerful, lilting rhythms. Space rock-esque electric guitars trickle down through the mix to broadening the sonic soundscape. Throughout the album, the band retains that trademark satirical edge and sharp lyrical wit that it does so well. "Mr. President's Next Big Hit" takes a look at violence in the United States, referencing tragedies like the Boston Marathon bombing and the Sandy Hook Elementary shooting. It's done with subtlety and tact, giving off a "What is this world coming to?" vibe without appearing overly pessimistic. Anyway, poking fun at modern life is sometimes the best coping mechanism. Coupled with the band's memorable hook-laden songwriting and obvious musical chemistry, this album invites listeners to take a load off and remember that despite the problems of the world, there's still fun to be had. – Devin Dely
Website: https://www.elroymeltzer.com/
Upcoming Show: Saturday (Feb. 16) at Quinn and Tuite's Irish Pub with Blue Oddity and others.
Listen: "Freddie Prince Jr.'s False Start"

---
Kaitlyn Zittel
"My Heart Billows Soot"
Grand Rapids artist Kaitlyn Zittel's album, "My Heart Billows Soot," demonstrates how well her voice carries her powerful lyricism to heights that deserves instant recognition. With 12 tracks there's an insane amount of poeticism to absorb, but listeners will want to soak it all in. The first track, "In the Street," sets the flow for the album beautifully, with Zittel maintaining that momentum through the final track, "Left Behind." And that closing track hits hardest as one of the most honest on the album, exuding a desperation in Zittel's voice that's reflected in her lyrics: "Fear I am falling fast behind/The best things in my life now seem so dull /I fear that all my time's been wasted." Another standout track, "Limestone" (released as a single ahead of the album), retains the poetic nature of Zittel's lyrics while switching its tone in the second chorus. The album addresses issues of self-doubt, identity and worthiness. In a beautifully ominous way, "My Heart Billows Soot" sparks a sort of yearning from its listeners that not only makes them love the album but love Zittel too. – Olivia Menchaca
Website: https://www.facebook.com/kaitlynzittelmusic/
Upcoming shows: Noon Thursday (Feb. 14) for Relax at Rosa, Rosa Parks Circle in Grand Rapids
Listen: "Limestone"

---
The Aquaerials
"Discordia"
There are only a few times in life when a person might just want to pack up everything and travel to a destination unknown. The Aquaerials' 10th album, "Discordia," is the perfect companion for that journey. Mark Swanson, the sole member of the Grand Rapids-based instrumental project, delivers a magical and uplifting album that opens a window to a delicate refreshing breeze. The opening title track greets listeners with a soft, gentle piano that brings a sense of wonder and youth. "Sunken Piano" has a different tone, bringing a chilling yet solemn sound from piano chords that sets listeners down an endless path entrenched in nostalgia and joy. Swanson manages to evoke feelings of happiness, longing, and sorrow in every track, but none more so than "Mr. Dream." This song encompasses and captures the very nature of what the album seeks. It gives an ethereal touch of light-heartedness, but also calls on the adventurous spirit that resides deep inside everyone. – Matthew Tep
Website: https://www.facebook.com/aquaerials/
Listen: "Mr. Dream"

Copyright 2019, Spins on Music LLC