The first Michigan albums roundup for February hails releases from the Upper Peninsula to Detroit to Grand Rapids. Get the Local Spins take on these recordings and listen to tracks from each artist.
Once again, Local Spins covers the state and a wide swath of musical styles with February's first roundup of new releases by Michigan artists.
Support our coverage of
West Michigan's music scene
You might even say it's part of a blizzard of fresh albums created by local and regional acts in recent months, from Detroit to the Upper Peninsula to West Michigan, with plenty more to come.
Check out the reviews and audio samples below, with previous Local Spins album reviews available online here.
---
L. Supreme & Jasonmakesgoodbeats
"The Mixture"
What Stands Out: L. Supreme is a Grand Rapids-raised emcee steeped in the traditions of hip hop. Recently, he teamed up with producer Jasonmakesgoodbeats (formerly known as Nixon) to produce The Mixture, a throwback to the "gritty, lo-fi hip hop of the 90s." Each track feels straight out of hip-hop history, and yet the subject matter is just as relevant today. Tracks like "LAX" and "Speak On It" serve as a call-to-action for the black community to come together and face the oppressive powers that continue to try and diminish their worth generationally. The introductory track and "$lave Whip$" focus on detailing the struggles and navigating the hardships that many grew up with in different neighborhoods. "Rotten Fruit" and "Evelyn Champagne" (featuring guest vocalist Arisha) detail two tales of infatuation with different outcomes, and "Family Affair" features guest emcees Steam Mag (who delivers sharpened lyrics on his "first verse in years") and Ruben (remarking that there was a "pandemic before the virus" with so many things plaguing black communities). It's a release that doesn't overstay its welcome and makes use of every minute of airtime.
Digging Deeper: This collaborative effort between L. Supreme and Jasonmakesgoodbeats results in a solid record, complete with a variety of styles and textures to accompany L. Supreme's uncompromising lyricism. Jason shows his chops once again as a producer, having worked in the past with artists like Rick Chyme, Lady Ace Boogie and JRob. This new venture is undoubtedly the start of many future releases to come.
Perfect For: Cruising around the city, feeling the pulse of two hip hop and Grand Rapids veterans reverberating around an environment they have distilled so effortlessly into a punctuated, artistic statement. – Dutcher Snedeker
Website: https://www.facebook.com/jasonmakesgoodbeats
https://www.youtube.com/channel/UCCa8RKGi3z4j2o_jNowh47g
Listen: "LAX"

---

FINKEL
"Sick 2020"
What Stands Out: Formerly performing as Less Is More before moving to Los Angeles from Michigan, FINKEL gives listeners an assortment of complex soundwaves with "Sick 2020," the duo's latest release. The album, like many other creative ventures in 2020, reflects on the strain the pandemic has placed on the country, including the auxiliary issues we face outside of public health. Between scathing commentary on systemic racism on "Bleach Vial" or exploring the intersectionality of mental health as it relates to relationships on "Little Things," "Sick 2020" is insightful, challenging and often therapeutic. This is especially true with the instrumentation, with intricate, high-energy electronic releases on "Bleach Vial" juxtaposed with smooth, perplexing and pensive guitar/synth work on "Little Things." The result feels like a pandemic anthology — a collection of works that feels distinct and telling on its own, while painting a vibrant picture when listened to collectively.
Digging Deeper: "Sick 2020" proves to be a treasure trove of inspiring tracks that bring fresh air individually, but mesh together in an intriguing collage from start to finish. "Bleach Vial" is a textual, synthetic wonderland with a bouncy percussion/vocal combo before taking a dark, distressed turn into a vibrating soundscape. Kamakaze especially brings a high-octane rush to the end of the track with some provocative bars critiquing the government's faults throughout the pandemic period — ranging from its response to the Black Lives Matter movement to two-faced foreign and domestic policy. Down the tracklist, "Looong Summer" beautifully embodies the mind-numbing experience of an isolated season amid COVID-19. There's a tantalizing sensation in the delicate acoustic loop and artful wailings that captures the swirling somberness of an unusually quiet summer. In this scene, Monse's feature is a velvety weighted blanket on the track that brings everything home, especially as a savory counter to Jane Spencer's airy lead vocals.
Perfect For: Fans of Glass Animals, Alt-J or even BROCKHAMPTON. – Nick Moran
Website: https://www.finkelband.com/
Listen To: "Bleach Vial"

---

Gianna Stansell
"Love Magnetic"
What Stands Out: Not surprisingly, the first thing that jumps out is this 17-year-old's voice – polished, mature, distinctive and much more controlled (in a good way) than one might expect from someone so young. West Michigan singer and songwriter Gianna Stansell has years of performing and recording under her belt, but this represents her EP debut, featuring five songs co-written with Grand Rapids mentor Jeff Oxford, as well as Phil Wilson, Kathiryn Werlinich and Michael McGee. As pop-flavored R&B entries, the award-winning singer makes a terrific first impression, especially on the tracks "Dude" and "How It Feels."
Digging Deeper: The subject matter of this EP leans toward teen concerns and somewhat pedestrian themes, but Stansell clearly has room and time to develop more sophisticated motifs as she hones her style and gains life experience – especially with the assistance of veteran collaborators. And within the realm of pop music, there's little doubt Stansell aims to be "a force to be reckoned" with — as she proclaims on the title track.
Perfect For: Fans of Ari Lennox, Cleo Sol and Taylor Swift. – John Sinkevics
Website: https://www.facebook.com/Gianna-Stansell-100822748407752
Listen: "How It Feels"

---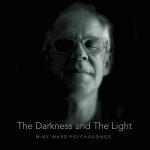 Mike Ward
"The Darkness and The Light"
What Stands Out: Detroit-based singer-songwriter Mike Ward's second studio album tells the story of reflection: the mistakes, regrets and good times in life, while also stressing the importance of moving forward and into the light. The record kicks off with "Our Turn to Shine," a bass-driven song that focuses on the simplicity of moving on. The album stays within this positive mindset until "Content," a light, airy song that brings up the restrictions of our everyday 9-5's, questioning what really matters in life. Ward has all of the baggage packed up in this collection of vulnerable tunes. The finale, "No Way to Live," grapples with trying to meet others' expectations of your life, and feeling helpless in the process: "I used to have goals and I used to make plans, now I sit here hoping someone gives me a hand." (By the way, proceeds from sales of this track will be directed to organizations that assist the homeless.)
Digging Deeper: In a time of so much uncertainty and canceled plans, learning to move forward regardless is a lesson we have all had to learn. The bones of these songs float between simple folk to soft country-rock, and a shimmer of low cello tones that emphasize the gloominess of looking back. "The Darkness and The Light" was released at the perfect time, an album that exists between feelings of regret and feelings of hope. While 2020 may have been the worst year anyone can remember, we're determined to get back on track.
Perfect For: Taking a drive down backroads, reflecting on your memories and looking forward to making new ones. – Liv Conaty
Website: https://www.psychosongs.com/
Listen: "No Way to Live"

---

Ryan Cassidy
"Between Two Normals"
What Stands Out: Petoskey singer and multi-instrumentalist Ryan Cassidy got help from a few high-profile musicians on his debut album – Sav Buist and Katie Larson of Traverse City's The Accidentals, banjoist Ben Traverse and singer Cherie Currie (who made her mark with rock's legendary The Runaways in the 1970s and appears as a guest vocalist on "Small Price"). But make no mistake, this 11-track collection is really a showcase for this up-and-coming 20-year-old artist's prodigious talent in the pop-hued vein of indie-rock and folk-rock. "No Thrills," "Small Price" and "Not Too Long Ago" in particular have that stick-to-your-brain quality about them.
Digging Deeper: Except for the aforementioned guest contributions, Cassidy plays every instrument on "Between Two Normals." While the too-whispery vocals of some tracks gives way to a more engaging rock 'n' roll flair on songs such "Tide Rolling Back to Sea" and "Not Too Long Ago," there's also a pleasingly dreamy sheen to the entire project.
Perfect For: Fans of Ben Folds, The Beatles and Phoebe Bridgers. – John Sinkevics
Website: http://www.ryancassidymusic.com/
Listen: "No Thrills"

---

Under This Cold Sky
"Indian Paintbrush"
What Stands Out: The spare and laid-back opening track, "On the Shores of Winter," says a lot about this solo collection from Upper Peninsula singer-songwriter Stephen Hooper, who's recorded four studio albums under the moniker Under This Cold Sky. The Negaunee native and Marquette science teacher pours out introspective, melancholy and languorous indie-folk steeped in the landscape of Michigan, from the "chill, damp dawn" of a muddy footpath along a pond to the icy winds of winter to "Old U.S. 45."
Digging Deeper: Recorded and self-produced by Hooper himself, the 12-song collection has a limiting, recurrent quality instrumentally. But the thrust here – as it is with many singer-songwriters – is all about the lyrics, and Hooper crafts memorable lines throughout: "Not knowing's not the problem; rather choosing to retain the many fractured pieces; all the idols of your faith."
Perfect For: Fans of everything from Bon Iver to Nirvana will find some musical solace here. – John Sinkevics
Website: https://underthiscoldskymusic.com/
Listen: "On the Shores of Winter"

Copyright 2021, Spins on Music LLC