As the holidays approach, this month's Local Spins segment on Michigan Radio's 'Stateside' uncorked a diverse trio of new releases by Grand Rapids-area bands. Read about the artists, listen to their songs.
There's always a fair amount of excitement surrounding either A) a new recording from an established band, B) a new band with a familiar cast of musicians, or C) all of the above.
Support our coverage of
West Michigan's music scene
For the December edition of Local Spins on Michigan Radio's "Stateside" it was "all of the above" as Local Spins publisher John Sinkevics chatted with host Cynthia Canty about three new releases that particularly impressed Canty: the retro charm of The JetBeats' "High Time," the rootsy Americana flavors of Roosevelt Diggs' "Better Days" and the soulfully eclectic "Deciph3r," from the brand new band, Dalmatian Stone.
With the holidays fast approaching, it's yet another batch of regional releases worth considering for gift lists. Check out more as part of recent Local Spins album reviews.
Listen to the December Local Spins segment on "Stateside" via the West Michigan Mixtape here and check out full songs by the featured artists below.

---
1. Dalmatian Stone, "Deciph3r" – This is a new band project from a dynamic singer and frontman who's been around West Michigan for a long time. Dalmatian Stone is the brainchild of Diego Morales, a Holland singer and songwriter who may be best known in recent years for being the charismatic lead vocalist for The Soul Syndicate, a vintage, horn-infused R&B ensemble that's developed a big following in the region, not to mention heading up the JMM Jazz group that churns out jazz vocal standards and Rat Pack classics. Diego, who's of Cuban descent and grew up in Chicago listening to the Spanish and English music that his parents loved, including vocalists like Nat King Cole, Frank Sinatra and Elvis Presley, and subsequently, Motown music and great soul groups like The Temptations. He also escaped the gang culture of Chicago when his family moved to Holland while he was in high school. He got recruited into a bar cover band 19 years ago and has been involved in numerous groups since. This next-step, new band venture cites Prince, Lenny Kravitz, Seal, Nile Rodgers, Jamiroquai & Heatwave as influences, but mostly it's super soulful stuff venturing into funk, pop, acid-jazz and rock – a sound he calls "mystephonic." Diego has surrounded himself with talent in Dalmatian Stone, including veteran Grand Rapids players such as bassist Earl Tolliver, drummer Tom Taylor, guitarist Mike Dodge and others. The recording was released late last month and the band hosts its album-release show on Dec. 14 at Billy's Lounge in Grand Rapids. And tune in to Local Spins on WYCE (88.1 FM) at 11 a.m. Dec. 14 when Dalmation Stone will be the in-studio guests.
Listen: Dalmatian Stone, "Live Happily"

---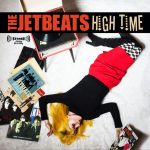 2. The JetBeats, "High Time" – Talk about back to the future: The JetBeats may be the consummate vintage '60s rock/pop band, reflecting the gritty, harmony-laden sound of The Beatles and the Mersey beat of Liverpool in the early 1960s. They sound like that era, they look like groups of that era and band leader Morgan Moallemian can't help but write songs that just ooze that retro sound. He says no matter what he does "Everything I write still sounds like 1964!" About year ago, the band even traveled to Liverpool to play the legendary Cavern Club as well as other venues in England that once hosted the Fab Four. Their new and third recording is titled, "High Time," which was produced by the renowned Jim Diamond and engineered by Tommy Schichtel at the all-analog Goon Lagoon in Grand Rapids. They hosted an album-release show late last month at The Tip Top Deluxe Bar and Grill in Grand Rapids and play Rocky's Bar & Grill in Grand Rapids on Dec. 13.
LISTEN: The JetBeats, "Dancing on The Sun"

---
3. Roosevelt Diggs, "Better Days"
– Roosevelt Diggs' third album has been a long time coming. The popular Grand Rapids-area Americana and bluegrass outfit last released an album back in 2014, but "Better Days" was well worth the wait, featuring the strongest arrangements and songwriting that the band has produced since forming almost a decade ago. The group features two brothers, Logan and Levi Duddles, bassist Jon Shears and drummer John Ellsworth, and their take on Americana ranges from country-hued acoustic bluegrass-sounding tunes to rootsy rock with growling electric guitars – it's a package that sometimes shows hints of Wilco and Drive-By Truckers and, at others, classic bluegrass. The album was tracked at Third Coast Recording in Grand Haven and as I put it in my review, "there's plenty of raw power in the music of Roosevelt Diggs, balanced by engaging moments of poignant tenderness and insights into life's hard lessons. It all makes this one of West Michigan's most compelling releases of 2018." Their next show is Saturday (Dec. 8) at Old Dog Tavern in Kalamazoo with special guests Leaf/Van Acker.
LISTEN: Roosevelt Diggs, "I Only Have Myself to Blame"
Copyright 2018, Spins on Music LLC