This November roundup of Michigan releases boasts a Petoskey-bred band's full-length debut and gems from Conrad Shock, Roosevelt Diggs, Elizabeth Landry and Brotha James, who plays SpeakEZ Lounge tonight.
Mid-November is the perfect time to check out some new regional album releases, especially with gift-buying revving up for the holidays: Michigan-bred music is always a welcome present.
Support our coverage of
West Michigan's music scene
Check out the first installation of our fall roundup up of new recordings — and listen to songs by the featured artists — with more to come at Local Spins later this season. And recap earlier reviews of releases by Michigan artists in our "Album Reviews" section.
---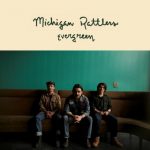 Michigan Rattlers
"Evergreen"
Some bands just ooze authenticity – a natural sort of honesty that permeates lyrics and melodies with a casually intoxicating aura. Michigan Rattlers are that kind of outfit, proving it on their full-length debut album, from the opening lines of "Just Good Night" to the final notes of "The Heat." Alternately described as an Americana or folk-rock group, the Petoskey-bred Rattlers – guitarist Graham Young, upright bassist Adam Reed and pianist Christian Wilder – actually uncork country music the way it's supposed to be written and played. The addition of keyboards to the Michigan Rattlers' sound can only be described as pure genius, augmenting their alt-country ambience with perfectly tasty piano and organ accents. And while the boys may reside in L.A. these days — enjoying budding national attention — most of their songs resonate with a Midwestern flair and a fetching twang, rife with tales of nostalgic Michigan evenings, back porch beers, wiping snowflakes off of windshields and "Late Night Cigarette Talks." Not surprisingly, considering how often these guys crisscross the country, these are also songs from the road, perfectly capturing the sentiments of longing, regret and fond memories sparked by the life of troubadours. – John Sinkevics
Website: http://www.michiganrattlers.com/
Listen: "I Remember"

---
Roosevelt Diggs
"Better Days"
There's plenty of raw power in the music of Roosevelt Diggs, balanced by engaging moments of poignant tenderness and insights into life's hard lessons. The West Michigan Americana/bluegrass/alt-country band's first studio album in four years – recorded at Third Coast Recording in Grand Haven – marks a major step forward for the popular outfit, as the group brilliantly blends its acoustic charm with piano accents and growling electric guitars, enhanced by in-studio contributions from Adrian and Meredith Krygowski, Joe Hettinga, Daphne Shears and Jack Clark. The Duddles brothers, Levi and Logan, at times even display a smidgen of punk attitude – a nod to the music they grew up with – buoyed by the solid rhythm section of bassist Jon Shears and drummer John Ellsworth. From melancholy, harmony filled, tale-of-tragedy ballads such as "Brookside" to the Bo Diddley beat on "Life of Sin," the band shows its mettle as a real musical force in the region with well-crafted songs and heartfelt performances. When they sing on the title track that "I feel the cold air creeping in," you can actually feel the chill. And on "Everything As It Was," they leave listeners with a simple but potent message: "Sometimes what you're wishing for seems what you think want … but not what you need." It all makes this one of West Michigan's most compelling releases of 2018. – J.S.
Website: http://www.rooseveltdiggs.com/
Upcoming Show: Dec. 8 at Old Dog Tavern in Kalamazoo (with Leaf/Van Acker)
Listen: "Better Days"

---

Conrad Shock + The Noise,
"Conrad Shock + The Noise"
When all goes well, sophomore albums are supposed to sound like this. "Conrad Shock + The Noise" represents the sort of progress in songwriting, arrangements and production that take a promising band (Local Spins named the Grand Rapids rock band its emerging artist of the year in early 2017) to the next level. As such, guitarist-singer John (Conrad) Schaak, guitarist Michael Pierce, drummer Bailey Budnik, bassist Koty Schoenberg and keyboard player Olivia Vargas have chosen from the get-go (take the opening track "Pills N' Fruit") to get ever more psychedelic with their brand of rock, smartly weaving healthy doses of blues and funk into the mix. Of course, the frontman's distinctive voice and attitude help ensure that these infectious songs will rattle around your noggin all day. As such, there are plenty of standout tracks here, from the fuzzed-out guitar muscle of "Rubble" to the surfy "Lonetown" to the head-bobbing "Outside the Dream," with its delectable, '60-styled guitar and organ flavors. It's an album calculated to induce multiple listens – with the volume cranked all the way up. – J.S.
Website: https://www.conradshockandthenoise.com/
Upcoming Shows: Dec. 19 at SpeakEZ Lounge in Grand Rapids (with The Ryne Experience), Dec. 22 at Ethanology in Elk Rapids
Listen: "Pills N' Fruit"

---
This is pure Brotha James exuberance. The latest from Brotha James, also known as Jeremy Reisig, a singer-songwriter, multi-instrumentalist and looping phenom from Elk Rapids, reflects the upbeat nature of this uplifting purveyor of positivity. Incorporating everything from hip hop to rock to pop, soul, funk, reggae and disco into his songs and his performances, Brotha James has created his signature recording with "Abracadabra," subtitled "With These Words I Create." Release of the album – chock full of feel-good, uplifting material – is paired with release of a book, "With Our Words: We Create," which explains "the stories behind the songs" along with encouraging words about wiping out negativity in your life, something that resonates with kids as well as adults. "Abracadabra" may be the perfect description of this collection, because it's a magical ride that will leave you smiling … and shaking your booty. And that what also makes him a standout live act. – J.S.
Website: https://www.brothajames.com/
Upcoming Shows: 8 p.m. Wednesday Nov. 14 for Local Spins Wednesdays at SpeakEZ Lounge in Grand Rapids; 8 p.m. Friday Nov. 16 at Rockford Brewing in Rockford; Nov. 21 at Cellar 152 in Elk Rapids; Nov. 24 at Lumberjack's in Honor; Nov. 30 at Unruly Brewing Co. in Muskegon
Listen: "Warrior"

---
Elizabeth Landry
"The River"
Northern Michigan audiences have come to know singer-songwriter Elizabeth Landry as E Minor. But with release of her latest full-length album, Landry has chosen to not only revert to her "birth name," but also to fully immerse her music in the ear-pleasing, vintage country music that suits her so well. Landry's voice resonates with pure country charm on these insightful songs recorded with a full band at Holy Wah Studio in Maple City with engineer Pat Niemisto and produced by Joe Wilson. And as the second track on the album suggests, this nine-song collection "Ebbs and Flows" through emotional ups and downs via tender ballads, up-tempo toe-tappers and even some poetry. There are still folk elements on her sophomore album, but Landry has hit her stride on "The River" with an infectious country twang. – J.S.
Website: https://elandrysings.com/
Listen: "Ebbs and Flows"

Copyright 2018, Spins on Music LLC