Local Spins wraps up 2012 with a real bang, hailing recent CD releases from a passel of West Michigan's most bracing and promising bands, including Simien the Whale, Kung Fu Rodeo, AG Silver, The Koh Kohs and some holiday magic.
Ah, another banner year for Local Spins.
If anything demonstrates the riveting, fast-expanding nature of West Michigan's fertile music scene, it's the swarm of talented artists representing a myriad of genres, from jazz to folk to rock to country.
So just in time for the holidays and smart gift shopping, here's the first installment of my year-end Local Spins reviews of recent releases by bands, solo musicians and singer-songwriters. (For local albums reviewed earlier this year, click here.)
By the way, links to bands' and artists' websites are included, providing access to music samples and online CD purchases. Some of the reviews also include links to videos and podcasts of the featured groups or singer-songwriters from my weekly Local Spins Live radio show at 10 a.m. Wednesdays on News Talk 1340 AM. And stay tuned for Round Two of year-end reviews later this month.
The John De Gennaro Band
"No More Stories"
On one level, the six-song debut EP from Grand Rapids singer-guitarist John De Gennaro is a straightforward rock record with a rootsy foundation. On the other, it mixes acoustic-flavored folk ("Hey You Wanna," "Don't Let It Go") with bluesier tracks ("Heart on My Sleeve") that recall artists such as Jonny Lang or Ray LaMontagne. Either way, with an assist from drummer Logan Kartes, bassist Collin Casavettes and lead guitarist Aladin Kadic, this album recorded at Grand Rapids' Stone House Recording is DeGennaro's pretty commanding entry into West Michigan's music scene.
Website: johndegennaro.com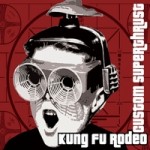 Kung Fu Rodeo
"Custom Superthrust"
The first-blush tendency would be to compare northern Michigan's Kung Fu Rodeo to other Dave Matthews Band-bred disciples of rock, with those familiar funky underpinnings. But these Traverse City fellows – Chuk Light, Denny Richards, Jeremy Sowa and Mike Dunbar – mix in plenty of surprises, from the jazzy interlude in "Crazy Weight" to the bluegrass-driven "Sunday Sisters" to the Southern rock/country-flavored "Seven Hands" to the reggae-textured "Lock the Door." It's a refreshing, eclectic and distinctly Michigan sort of vibe, sure to make Kung Fu Rodeo the life of any party.
Website: facebook.com/kungfurodeo, reverbnation.com/kungfurodeo
Roger MacNaughton
"A Quiet Christmas"
Face it: Christmases have become ever noisier, clamorous affairs, with the unceasing din of advertising and commercial hooha. Prolific Ada pianist Roger MacNaughton erases that clatter with a truly calming and gorgeously arranged collection of instrumental holiday charmers, accompanied by saxophonists Jon Montgomery and John Gist and guitarist Carlos Melendez on classic carols such as "Away in a Manger," "Silent Night" and "O Come All Ye Faithful," as well as three original, appropriately Yule-tinged, smooth-jazz compositions. It's the perfect way to get quiet and really listen during the holidays.
Website: rogermacnaughton.com
Simien the Whale
"Simien the Whale"
Straddling the slippery fence between accessible, catchy pop and thought-provoking, intricate rock can be an uncomfortable place for many artists. But with years of creating soulfully diverse music between them, Simien the Whale's Zach Guy and Tory Peterson have emerged with a brilliant, lushly produced affair as their official full-length debut, recorded over a two-year period at Mackinaw Harvest Music. It's the sort of album that can stretch out with deliciously psychedelic guitar-jamming on "SHFB" then segue seamlessly into the electro-pop of "Keep on Marching" and the funk-rock of "Dog Days" without missing a breakbeat, so to speak. Check out the Local Spins Live podcast and video here.
Website: simienthewhale.com
The Koh Kohs
"The Koh Kohs"
There's an under-current of hopefulness in the Americana-styled rock music of The Koh Kohs, despite song titles such as "Dig My Grave," "Cemetery" and "Undertow." Indeed, this new Grand Rapids band led by the singer-songwriter couple of Joshua and Alexis Kohns is instantly lovable, with Alexis' penetrating vocals balanced by Joshua's whispery resonance on songs that span the breadth of Americana's reach – folk, blues, rock. With drummer Luke Rockhold and bassist Stephen Pell's rhythmic foundation, this six-song EP expertly recorded at Stone House Recording by Peter Fox stands as one of West Michigan's most captivating debuts of 2012. (The CD-release party takes place at 7 tonight — Dec. 7 — at Stone House, 731 Front Ave. NW, with Just Married, The Wealthy Orphans and Rusty and Kelsy Vining also on the bill, $3.) Check out the Kohns' in-studio Local Spins Live performance here.
Websites: facebook.com/thekohkohs, reverbnation.com/thekohkohs
An Dro
"Storyteller"
From the outset, An Dro has dwelled within the realm of Michigan's instrumental Celtic royalty. On "Storyteller," the West Michigan band's third album, Fred Willson, Michele Venegas, Jim Spalink and Carolyn Koebel further solidify their world music-hued nobility, with percussionist Koebel in particular standing out on songs such as "Duty-Free Reel" and "Tourdion/An Dro." The tale of the tape with this 11-track album inspired by the bouzouki-playing Spalink's "storyteller's chair" and recorded at Grand Rapids' River City Studios? It's a hypnotically pleasing collection.
Website: andromusic.com
Theatre of Night
"The Dawn's Early Light"
If Theatre of Night gets labeled as Michigan's version of Trans-Siberian Orchestra with a patriotic twist, then so be it, because this is a truly one-of-a-kind collection. This trio rocks impressively from sea to shining sea, turning "America the Beautiful," "Battle Hymn of the Republic," "When Johnny Comes Marching Home" and other traditional tunes into heavy metal-infused symphonic gems. Guitarist Steve Giles, his drummer brother, Greg, and keyboard player Craig Harrison have done the same with some favorite Yuletide carols via the recently re-released "Christmas Night," so they've got plenty of warm-and-fuzzy-meets-searing-rock-guitars material to stoke your fire for the holidays.
Website: theatreofnight.com
Kelsey Rottiers & The Rising Tide
"Bear Hope"
Wearing her signature red boots during performances, Rottiers also has become known for her strong stand against human trafficking and commitment to raising awareness of this horrific practice. On her sophomore album recorded in Nashville, Rottiers lends her powerful voice to this critical cause, which weaves its way in melodically melancholy fashion through all six tracks, with hints of artists such as Ingrid Michaelson and Feist in her approach. The Flint-area transplant does it all with an air of hope and a passion that makes you sit up and really listen … and better yet, take action.
Website: kelseyrottiers.com
AG Silver
"Hold On"
Three years of writing and recording after getting disenchanted with the music industry has produced this seasoned Grand Rapids rock band's best and most uplifting album yet. Leaning on several veteran mix engineers, the band – Jon Ornee, Chris McKellar, Craig Vanderwier and Josh Blom – injects real intensity into anthemic, hook-filled tracks ranging from "When the Sun Goes Down" to "Miss Michigan." It's a lushly produced effort with a pop sheen that should also appeal to devotees of The Killers, U2, Keane and Train. Check out their acoustic Local Spins Live performance here.
Website: agsilver.com
Tony LaJoye Trio
"Thrive"
Jaunty. That's how I described this band's music in my recent Local Spins Live artist-of-the-week spotlight. This 10-track debut by West Michigan's Tony LaJoye Trio, recorded at Grand Rapids' Amber Lit Studio, comes off as an unusual stew of jazz, folk, pop and soul that even tosses in some steel drums for good measure, giving things a party-up vibe. As LaJoye puts it in the title of a track midway through the CD, "Come on down to Tony's."
Website: facebook.com/tonylajoye
Email: jsinkevics@gmail.com
john@localspins.com
A veteran journalist and former music writer for The Grand Rapids Press, John Sinkevics is editor and publisher of LocalSpins.com, profiling regional artists and commenting on West Michigan's music scene. He hosts "Local Spins Live" on News Talk 1340 AM in Grand Rapids at 11 a.m. Wednesdays, and the hour-long "Local Spins on WYCE" at 11 a.m. Fridays on WYCE-FM (88.1), both spotlighting regional artists.
Latest posts by John Sinkevics (see all)